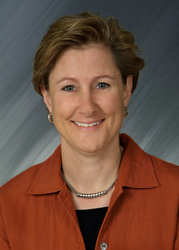 We'll show how pharma and healthcare marketers can successfully engage women in making smart, financially sound health care decisions."
Chicago, IL (PRWEB) November 2, 2010
"As if mom didn't have enough on her plate, research shows that she has become the Chief Medical Officer for her entire family," according to Aetna's Jill Griffiths, Vice President and Head of Market and Clinical Communications. Griffiths' presentation, 'Engaging Dr. Mom' will feature a panel of experts from Aetna, its customers and partners at the second annual M2W®–HC™ - Marketing Pharma & Healthcare to Women Conference, http://www.m2w-hc.com, Nov. 16 & 17, Chicago Cultural Center.
"Our panel will show how Aetna is focusing on 'Dr. Mom' with a unique combination of tools and resources - ranging from mobile web and smart phone apps, to plain language web resources and materials that demystify a complex health care system," Griffiths explained. "We'll demo these tools/resources, show how they work in the real world and share new research. We'll show how pharma and healthcare marketers can successfully engage women in making smart, financially sound health care decisions."
Griffiths' Aetna panel will be joined by over 30 other pharma and healthcare marketing to women experts, notably Nan-Kirsten Forte, Executive Vice President, Consumer Services, WebMD; Peter Pitts, President of the Center for Medicine in the Public Interest; Monique da Silva, EVP, Head of North America Healthcare, Ogilvy Public Relations Worldwide; Sharon Callahan, CEO, The Vue Group; Loreen Babcock, CEO & President, Unit 7 and Heidemarie Schnell, Deputy Director, YAZ Consumer Brand Marketing Women's Healthcare, Bayer Healthcare Pharmaceuticals.
"M2W®–HC™ is attended by marketing execs from leading pharma and healthcare companies," according to Nan McCann, M2W®–HC™ Producer. "The most successful brands, from childcare and eldercare, to OTC pharmaceuticals, hospitalization and insurance, realize that women are the primary decision makers for almost every aspect of their business. Moreover, we've had attendance from a really broad range of brands including Microsoft Health Solutions, AARP, Kraft, GlaxoSmithKline, Brigham & Women's, Clorox and Sanofi-Aventis, just to name a very few."
M2W®–HC™ is supported by Associate Sponsors: imc2 health & wellness, LLNS, Ketchum, Draftfcb, Aetna, Pink Tank, PMP, Healthy Advice Networks, Ogilvy Public Relations, Feinstein Kean Healthcare. Affiliate Sponsors: The Center for Medicine in the Public Interest, WomenHeart, American Cancer Society, HealthyWomen, Look Good…Feel Better, Go Red For Women, Susan G. Komen For The Cure. Workshop Sponors: Publicis, Coyne PR. Showcase Sponsors: WebMD, Pentel, Get Healthy Promos.com, Carolina Pad, e-Healthcare Solutions, Scholastic Parents, The Haystack Group. Media Sponsor: Today's Chicago Woman. Video Content Resource: SNiPPiES.
For conference schedule and information: http://www.m2w-hc.com or 860.724.2649 x13. M2W®–HC™ is produced by PME® Enterprises LLC, 216 Main Street, Hartford, CT 06106.
###