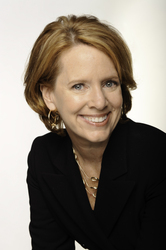 Half truths are what she says; whole truths are what she does.
Chicago, IL (PRWEB) March 2, 2010
Marketing executives from brands as diverse as GM, Ghirardelli Chocolate, iVillage, Brown-Forman, Kodak, Mary Kay, MasterCard, P&G, LifeScript, Aetna and Ubisoft will meet April 21 & 22 in the Chicago Cultural Center for the 6th Annual M2W® – The Marketing to Women Conference.
"Smart brands attend because they know understanding women is not an option. It is an imperative," according to Nan McCann, producer of M2W®. "Women control or influence 85% of consumer purchasing in almost every single product category — from autos to electronics to pharmaceuticals and everything in between. Yet," McCann continued, "in spite of their dominant role in the consumer economy, women repeatedly state in survey after survey that marketers don't understand them."
Understanding marketing research and women's feedback — both online and off, in the marketplace and in focus groups — is the theme of this year's M2W® opening keynote, presented by Mary Lou Quinlan, Founder/CEO and Tracy Chapman, Co-Director Brand Insights of Just Ask A Woman, a leading global women's research consultancy.
Drawing on decade of interviewing 1000s of women for countless brands, and from their new book titled What Women Aren't Telling You & What You Can Do About It, Quinlan & Chapman explore and explain the phenomenon that women are telling half truths in market research studies.
"Half truths" according to Quinlan "are what she says; whole truths are what she does. We'll use case studies and videos to show brands how to get to the whole truths of what women are really saying and how to avoid the traps that waste research dollars and undermine marketing strategies. Plus, everyone in attendance will receive a free copy of our book."
They will be joined by more than 20 other marketing to women experts, notably Amanda Stevens of Splash Consulting, Kelley Skoloda of Ketchum, Aliza Freud of SheSpeaks, Bridget Brennan of Female Factor; Tim Rumpler of imc2, Jeff Weiss of Harbinger, Fara Warner author of Power Of The Purse, Kevin Hochman of P&G; Marti Barletta of The TrendSight Group and Matthew Egol of Booz & Co.
M2W® is sponsored by Associate Sponsors: Barkley, JSH&A, Harbinger, Booz & Co., Ketchum, imc2, House Party, and SheSpeaks; Workshop Sponsors: Jane Out Of the Box, Affina and Shutterfly; Showcase Sponsors: Carolina Pad, Bee Leaf Bags, Refreshing Ideas-H2O, Just Ask A Woman and Win/Win Radio; Video Journalism Resource: Snippies; Affiliate Sponsor: Chicago AMA.
For complete conference schedule and information visit: http://www.m2w.biz or call 860.724.2649 x15. M2W® is produced by PME Enterprises LLC, 216 Main Street, Hartford, CT 06106.
###