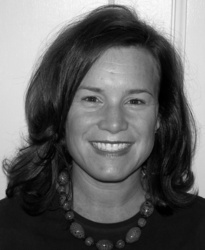 Whitlock won for using the social media techniques she learned at M2W® 2009 to grow the Carolina Pad brand.
Chicago, IL (PRWEB) May 24, 2010
The 6th Annual M2W®- Marketing to Women Conference's 'Full Circle Award' was given to Carolina Pad's Director of Brand Management, April Whitlock, during the conference April 21 & 22 in Chicago's Cultural Center. The award is annually presented to the M2W® participant who incorporates what they learned at M2W® into a successful marketing campaign. Carolina Pad joins past winners Harley-Davidson, Motorola and Ghirardelli Chocolate.
"M2W® is designed to help brands improve their sales and marketing to women," according to Nan McCann, M2W® producer. "Whitlock won for using the social media techniques she learned at M2W® 2009 to grow the Carolina Pad brand."
Whitlock explained, "Last year's M2W® was really the launch of our brand's social media outreach and marketing. The pre-conference workshop was my first official experience with Twitter, and throughout the rest of the conference I was able to learn more about how to better use and manage various social media tools to grow Carolina Pad."
"Our social media efforts have definitely had a positive effect on our overall growth," Whitlock added. "Since last year, we have enjoyed a 30% increase in visitors to our website and a 25% increase in page views. So, not only are more people coming to our site, but they are looking around at different things. We've also created a mom blog partnership that now has 400 mom bloggers the brand can utilize for new product testing and promotions as well as other marketing outreach."
M2W® is annually attended by a wide variety of marketers. This year's audience included brand teams and executives from companies and brands as diverse as GM, J & J, Brown-Forman, Kraft, MasterCard, GlaxoSmithKline, Reebok, SCA Tissue, ESPN, Genworth Financial and Burton Snowboards. "Smart brands attend M2W®," McCann said, "because they know that women control or influence 85% of consumer purchasing in almost every single product category — from autos to electronics to pharmaceuticals to video games and everything in between."
M2W® was presented by Associate Sponsors: Harbinger, Barkley, JSH&A, Booz & Co., Ketchum, imc2, House Party, Memorex, Olson and SheSpeaks; Workshop Sponsors: Jane Out Of the Box, Affina, Girl Approved and Shutterfly; Showcase Sponsors: Carolina Pad, Kodak, Big Tent; Bee Leaf Bags, The 85% Niche, h2O Spring Water, WNBA, Splash Consulting, Martha Stewart Living Omnimedia, Just Ask A Woman and Win/Win Radio; Video Journalism Resource: SNiPPiES; Affiliate Sponsor: Chicago AMA.
For complete conference information visit: http://www.m2w.biz or call 860.724.2649 x11. M2W® is produced by PME® Enterprises, LLC, 216 Main Street, Hartford, CT 06106.
###