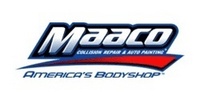 It provides a level of assistance for those starting out that, while it doesn't guarantee success, is a further step in that direction.
PHILADELPHIA (PRWEB) June 2, 2008
The Maaco Re-purchase Program is available to new franchisees who purchase a new franchise beginning May 1, 2008. The program is provided to help a new franchisee better manage the perceived risks and downside of starting a new business and to address financial concerns during the current economic status of the country.
"This is an unparalleled career opportunity with no 'catch'," said Martino. "The details are completely spelled out in our Franchise Disclosure Document so the prospective franchisee will know exactly what the terms and conditions are before committing to buying a franchise. This initiative is our way of showing potential franchise owners our strong confidence in our brand and our operating system," he said. "Ours is a business with a recession-proof history and we are committed to building our business and helping our franchisees in every way we can."
Since 1972, Maaco has painted more than 16 million vehicles and currently services more than 500,000 vehicles a year at Maaco's nearly 500 outlets. Beyond painting vehicles, Maaco's newly-introduced Cosmollision service combines cosmetic and collision repair of damaged, but drivable vehicles, at a value-driven price. This new franchise initiative will advance the Maaco corporate goal of providing consumers with more convenient Maaco locations in markets already served by Maaco franchises and opening centers in new markets.
"Today, nearly one million franchised establishments in the United States boost the nation's economy by more than $880 billion and provide jobs for 11 million workers," said International Franchise Association President and CEO Matthew Shay. "The continued growth of this industry is possible through the efforts of such dynamic companies as Maaco and its innovative ideas, such as this franchising initiative, which makes the path to small-business ownership much smoother and faster for tomorrow's entrepreneurs."
"This is one of the more innovative programs to help franchisees to come along in recent years," added Darrell Johnson, President and CEO of FRANdata, a primary source of information about franchising. "It provides a level of assistance for those starting out that, while it doesn't guarantee success, is a further step in that direction."
Maaco franchisees come from all walks of life and prior automotive experience is not needed. Maaco's training program is one of the most comprehensive in franchising and new owners are taught a time-tested proprietary operating system. Maaco also makes available to its new franchisees various financing resources and for those who have used Maaco's financing resources, over 95% have been successful in obtaining financing. With the most recent interest rate cut, SBA financing is now at an all-time 3 ½ year low.
Ron Feldman, CEO of Siegel Capital, an industry leader in assisting new franchisees with start-up financing said, "This is a monumental statement of confidence that Maaco has in its company and its business system. We know of no other program that is comparable to this new initiative of Maaco. From the perspective of the lending institutions, this program takes a tremendous amount of risk out of investing in a new business because the new franchisee can assess his or her downside before making a commitment, and the lending institution knows that the Company is standing behind its franchise model. In fact, to the best of our knowledge, this program is unprecedented in the franchise lending community. This program has the kind of character to it that could change the face of franchising in the United States."
In addition to new franchisees having the ability to request the buy back under the terms of the franchise agreement, Maaco's new initiative also provides that Maaco will take over their real estate lease. The combination of these benefits would be nearly impossible to obtain if an entrepreneur started his or her own business, bought an existing business or purchased another franchise. For more information about Maaco's Re-purchase Program please call toll free (866) 248-5250 or visit http://www.buyback.maaco.com.