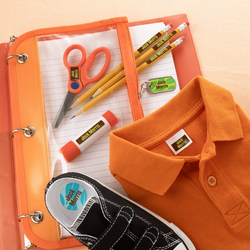 "Label all the items that go into your kids' backpack, plus the bag itself! Involve your child in selecting the label design to encourage them to take pride in their belongings, which will further avoid losses," says Julie Cole, Mabel's Labels co-founder.
Toronto, ON (PRWEB) July 6, 2010
Back-to-school is an expensive season. Families trying to save money, time and resources are discovering that personalized name labels are a smart and "cool" solution. With the cost of school clothes and (supplies) typically reaching hundreds of dollars per child, name labels easily pay for themselves many times over. And, unlike the time-consuming, utilitarian sew-on labels of the past, today's labels are quick and easy to apply by just sticking them on clothing tags; they are extremely resilient; and, most importantly for school kids, they are cute. Celebrity favorite Mabel's Labels combines fun designs with outstanding durability, pleasing kids and moms alike. Their colorful, UV resistant and waterproof labels will not fade or come off in the dishwasher or laundry. They're ideal on everything that goes to school, ensuring pricey belongings make it home rather than to the landfill.
Mabel's Labels' company co-founder, mom of six and back-to-school expert Julie Cole offers these top ways to save:
Get Organized:  Clear out closets and assess what can stay and what can be handed down, donated or recycled. Store hand-me-downs or unseasonal items in labeled bins. Back-to-school shopping will be so much easier when you have a clear idea of what your kids need.
Invest Time to Save Time: Schedule routine doctor visits, eye and dental exams now to minimize lost school days and extra driving around later. Investing time now will make things less hectic during the school year.
Label Everything:  Label all the items that go into your kids' backpack, plus the bag itself! Involve your child in selecting the label design to encourage them to take pride in their belongings, which will further avoid losses.
Designed with value -and style- conscious families in mind, Mabel's Labels announces that their bestselling Ultimate Back-to-School Combo is back and better than ever. With fresh new designs and icon choices, this limited edition Combo contains everything busy families need to protect their investments:
Tag Mates™: laundry safe, peel and stick clothing labels that require no ironing or sewing. Applied to care tags on clothes and uniforms, they're the smart alternative to fading and messy permanent markers.
Shoe Labels: extra tough, waterproof labels that peel and stick to the insoles of footwear.
Skinny-Minis™: small, dishwasher and microwave safe labels for reusable lunch containers, water bottles and school supplies such as markers, rulers and binders.
Teeny Tags™: sturdy, waterproof metal tags for lunch bags, backpacks, pencil cases and more.
This indispensable Combo is ideal for everything on Mabel's Labels Back-to-School Checklist. The Ultimate Back-to-School Combo is $39 - $44 for 108 labels. Available only until September 24th 2010 at mabelslabels.com
About Julie Cole: As a mother, Julie knows how frustrating it is to send kids out of the house with gear only to have them return empty-handed. Seven years ago, it was that very frustration that compelled Julie, along with three female relatives, to found Mabel's Labels - the leading provider of personalized labels for the stuff kids lose. Acting as the spokeswoman for Mabel's Labels, Julie has become a well-known personality among Canadian mompreneurs. Her charismatic personality has led to various speaking engagements, from morning TV shows to university level business classes. In between running a business and taking care of her family, Julie is finding the time to write a book about her experiences raising her bright and talented autistic son and his five siblings.
About Mabel's Labels
Four Hamilton, Ontario moms started Mabel's Labels when they got tired of their children losing or mixing up their belongings.  They decided to create durable and fun name labels that would help organize everyday life and save money.  Today they continue to come up with innovative new ways to label everything from clothing to litterless lunch containers, for children and adults alike.  Their line includes baby labels, uniform labels, stationery and kids' safety products including allergy labels. The company has been widely recognized for its business and product excellence, including winning the 2007 SavvyMom "Mompreneur of the Year" Award, awards from Baby Gizmo, iParenting and PTPA Media and, in 2009, a prestigious RBC Canadian Woman Entrepreneur Award. Mabel's Labels sells its products online at http://www.mabelslabels.com or by phone at 1-866-30-MABEL (62235). The company also distributes through camps, child care centers and green fundraisers.
###