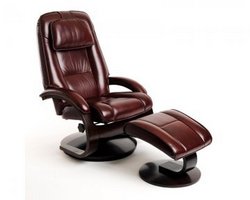 These selling features for added comfort allow for more support while doing things people actually do in their everyday lives, like watching TV and movies
Atlanta, GA (PRWEB) October 6, 2008
Over the past few years, Wholesale Furniture Brokers (GoWFB.com) has been increasing its growth in sales volume. Sales have increased by over 50% for September, 2008 compared to last year's figures. Finding more manufacturers that offer new styles gives Wholesale Furniture Brokers more reach and the ability to give existing customers something new to buy. This strategy has proven to be successful. Wholesale Furniture Brokers expects to increase sales again with the new European designed recliners and ergonomic office chairs by Mac Motion Chairs. Each recliner and office chair is produced in China and then shipped to the USA. The construction, motion, covers, finishes, and warranty of Mac Motion Chairs recliners and office chairs give owners a sophisticated product that has been improving for over 30 years. Furniture retail businesses and interior decorators that shop at Wholesale Furniture Brokers will now be able to offer their customers diverse styles of recliners and office chairs that will meet the demands of individual comfort requirements. "We believe that Mac Motion Chairs' new products will reach a larger network of customers through Wholesale Furniture Brokers," says Mac Motion Chairs' Vice President of Sales, Tony McCracken when asked why Mac Motion Chairs chose to sell their recliners and office chairs on the Wholesale Furniture Brokers' website.
The construction of Mac Motions Chairs recliners features hardwood frames combined with 11-16 gauge tubular and plate steel that give customers durable and stable support. The frame, nylon webbing, and 1.8 density foam on the top, back, and arms of the seat provide overall comfort and body support. Owners will get lower and upper lumbar supports that are specifically designed for each style of recliner. The office chairs are constructed with polished aluminum and black high impact nylon. The chairs also have dual casters to allow smooth movement in the office area. Some of the office chairs feature adjustable backrests and contour lumbar support. The office chairs by Mac Motion Chairs will give customers of Wholesale Furniture Brokers the comfort and support they need for any home office furniture set they are purchasing.
Each Mac Motion Chairs recliner is designed with a multiple position recline that can be adjusted to stop in any position. When the back of the chair is reclining, the seat level will also rise to balance the leg and lower back support. This motion helps maintain blood circulation and comfort. Matching ottomans, styled with an angled design for additional support, are included with every recliner. Some Mac Motion Chairs models also feature adjustable headrests. A 360 degree swivel adds greater convenience to the recliners as the person using the chair can get in and out of the chair and have conversations in multiple directions. "These selling features for added comfort allow for more support while doing things people actually do in their everyday lives, like watching TV and movies," notes Jeff Penner, Sales Manager for Wholesale Furniture Brokers. The office chairs offer unique comfort and support as well. They are designed with pneumatic height adjustment, adjustable arms, tilt locks with tension control, and adjustable arms. The ability to control the height of the office chairs will allow owners to choose from more varieties of desks to be matched with the chairs.
Shoppers at Wholesale Furniture Brokers can choose the cover for their recliner from top quality leather that is double sewn inside and out or from durable microfibers that are supported by nylon backing making it easy to clean. The office chairs are available with top grain leather, black mesh, and black fabric.
The recliners designed by Mac Motion Chairs are available with a variety of wood finishes that can match any home decor. The finishes include walnut, maple, cherry, pecan, and natural. When customers are shopping at Wholesale Furniture Brokers, they will be able to match the recliners to any new living room furniture set they are buying.
Mac Motion Chairs back their products with warranties: one year parts warranty for recliners and five year warranty for office chairs.
About Wholesale Furniture Brokers
Wholesale Furniture Brokers launched its USA website, GoWFB.com, in 2002. The revolutionary "Click and Mortar" ecommerce website provides customers with local and online support with more than 30 independently owned affiliated outlets in the USA and Canada. Shoppers can choose from an increasing collection of worldwide styles at Wholesale Furniture Brokers. Canadian shoppers interested in buying Mac Motion Chairs' recliners can also view Flair Enterprises' recliners on GoWFB.ca for a similar product. Furniture retail businesses and interior designers interested in ordering furniture available on GoWFB.com and GoWFB.ca including Mac Motion Chairs can apply for Wholesale Furniture Brokers' furniture dealer and vendor program.
###