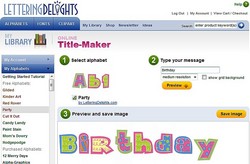 We have the biggest inventory of creative lettering alphabets. We've always wanted to help our Mac customers use our alphabets. And now, it's just as easy for Mac users to make customized page titles as it is for PC users
Orem, UT (PRWEB) January 15, 2008
You don't have to be an artist -- or a PC user -- to create customized lettering on your computer. Lettering Delights' new Online Title-Maker gives Mac scrapbookers access to 1,800 colorful alphabets for scrapbooks, cards, newsletters and more.
Creative lettering is a staple in the scrapbooking world. Most scrapbook layouts include a page title, resulting in a constant demand for fresh lettering styles. In addition, creative lettering is frequently used for drop caps, greeting card sentiments, newsletter titles, school bulletin boards and so on.
"We have the biggest inventory of creative lettering alphabets. We've always wanted to help our Mac customers use our alphabets. And now, it's just as easy for Mac users to make customized page titles as it is for PC users," said Mark Seastrand, CEO of Lettering Delights.
Previously, Mac users could not use the software that allowed PC users to type with Lettering Delights' graphic alphabet letters. Mac scrapbookers had to manually arrange letters into words and phrases. Those days of old-fashioned typesetting are gone. Now, Mac scrapbookers can access the Lettering Delights web site to instantly type titles in the Online Title-Maker, using any alphabet in their library.
Mac scrapbookers will enjoy the Online Title-Maker for their page titles, but the huge inventory of alphabet styles and ease of use will also appeal to crafters, teachers and desktop publishers.
For quick and easy custom titles, Mac scrapbookers log in to the Online Title-Maker and
1) select an alphabet,
2) type a title, phrase or quote,
3) save.
There are no programs to download or software to install. Users can create their title in seconds, then print or use digitally.
The Online Title-Maker is free to use and comes with three alphabets. Visitors can get six more alphabets free by registering for the site and subscribing to the newsletter. Additional alphabets retail for $2.99 to $3.99, with many opportunities during the year to save during sales. Coordinating clip-art sets, called Journaling Delights, are also available for many alphabets.
"Mac scrapbookers are really taking advantage of the Online Title-Maker. They tell us they love it, and it's long overdue!" added Seastrand.
Lettering Delights has been producing their unique, full-color alphabets for ten years. Without the restrictions of font files, alphabets can be designed as illustrations in an endless variety of themes and colors, from flowers to holiday ornaments to soccer balls and more. New alphabets are released several times a month. Lettering Delights also carries a wide selection of scrapbooking fonts for both Mac and PC users.
Scrapbooking ideas for using alphabets can be found on the Lettering Delights web site.
About Lettering Delights:
Lettering Delights has developed creative digital products since 1997. The best-known source for creative lettering, Lettering Delights boasts an unsurpassed selection of full-color alphabets, clip-art and scrapbooking fonts. Lettering Delights offers free access to the Mac-friendly Online Title-Maker and free alphabets for all new visitors. Learn more at http://www.letteringdelights.com/macscrapbooking.php.
###