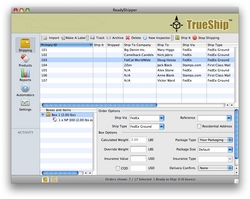 Scottsdale, AZ (PRWEB) December 3, 2008
TrueShip, a leading shipping software developer for small and mid-sized businesses, delivers support for Mac OS X users with the introduction of ReadyShipper 4 Mac. Based on TrueShip's popular ReadyShipper software, ReadyShipper 4 Mac fills a substantial need for businesses who use FedEx for shipping.
ReadyShipper brings integrated shipping for ecommerce, order management and accounting systems. It's a client-based solution designed to import, organize and ship orders easily and efficiently. ReadyShipper's design and workflow expedites the shipping process and eliminates errors associated with manually sorting shipping documents and re-keying address information.
ReadyShipper 4 Mac delivers a powerful business shipping solution previously unavailable to Mac users. Business customers who use FedEx with a Windows® PC for shipping can now use a Mac to provide the last mile in ecommerce fulfillment. ReadyShipper 4 Mac features a native Mac interface that is as intuitive as it is functional. Creating labels, packing lists and email tracking confirmations is a breeze using the advanced Order Inspector and batch shipping capabilities.
The software now includes an assistant that identifies common shipping mistakes before they happen and a powerful database for high-capacity shipping. ReadyShipper 4 Mac is simple enough for small businesses shipping 10 packages a day and robust enough for the enterprise that will ship thousands.
ReadyShipper 4 Mac integrates the complete range of FedEx shipping services, including domestic and international services and customs documentation. Stamps.com® is also a standard option for every ReadyShipper user so they can ship via USPS as well as FedEx. While so many businesses struggle with separate systems to support different carriers, Mac users can process both FedEx and USPS orders together.
ReadyShipper delivers enterprise-level shipping features that any business can afford. It is available today as a subscription-based solution for only $19.95 a month. For more information contact TrueShip at 877-818-SHIP (7447) or look to trueship.com.
About ReadyShipper Shipping Software:
ReadyShipper, by TrueShip, is shipping software for small and mid-sized businesses. It is a FedEx® certified solution featuring fully integrated FedEx labeling, rating, tracking and address validation.
As a subscription-based service, ReadyShipper delivers enterprise-level features in an affordable and easy to use shipping software suite. ReadyShipper routes orders, creates shipping labels and packing lists, and works with many popular ecommerce systems. It's a modular, client-based system, expandable for integration with accounting, order management and CRM solutions.
ReadyShipper greatly streamlines the shipping process by expediting fulfillment times, and reducing back office errors. The results save money through faster, more efficient shipments.
About TrueShip:
TrueShip is a Scottsdale, Arizona, based company. TrueShip is committed to delivering best of breed shipping software and product returns solutions designed to compliment today's popular ecommerce, accounting and order management systems.
###