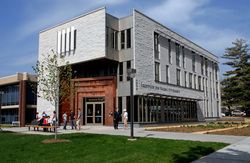 In every way, Markim Hall reflects Macalester's rich tradition of global leadership
St. Paul, MN (Vocus) July 24, 2009
Three years ago, when Macalester College decided to invest in a new home for the Institute for Global Citizenship (IGC), a unique program to educate and engage students to be global citizen-leaders, college leaders knew that it was critical that the building itself be designed and constructed in ways that demonstrate global leadership.
Reflecting that commitment, Markim Hall is the college's first, and only the second higher education facility in the state, to be built with the goal of obtaining the LEED Platinum certification from the U.S. Green Building Council. It is also the first building in the City of St. Paul to be built to these standards. LEED (Leadership in Energy and Environmental Design) emphasizes state-of-the-art strategies for sustainable site development, water savings, energy efficiency, materials selection and indoor environmental quality. Platinum is the highest level of certification. Only 12 college campus buildings in the United States have earned platinum-level certification.
"In every way, Markim Hall reflects Macalester's rich tradition of global leadership," said President Brian Rosenberg. "The programming inside the building is distinctive nationally in providing an institutional focal point for educating global citizens and leaders, while the building itself is a manifestation of the knowledge, attitudes, intellectual skills, values, and practical competencies students need to be effective and ethical agents of social change."
Markim Hall, which opens this summer, will be officially dedicated following a campus-wide convocation on Thursday, October 1, 2009. The $7.5 million, 17,000 square foot facility houses the Institute for Global Citizenship, civic engagement, study abroad and international programs, faculty and staff offices, meeting rooms, and an open atrium for campus events. An original bronze bust of former Secretary-General of the United Nations Kofi Annan '61, a gift of the United Nations Foundation to Macalester, is installed in the lobby. Generous donors funded the entire project.
Sustainable features include energy and water use, indoor air quality, materials used in construction and furnishings, native landscaping, innovative storm water management, and public education. Energy simulation models predict that Markim Hall will use about 80 percent less energy than a standard building in Macalester's climate. Energy efficient and sustainable features of Markim Hall include:
•Triple-glazed and low-e glass in windows on the north, east, and west facades, as well as in the lobby and skylight. These windows are treated to prevent transmission of heat. South-facing windows are double-glazed with low-e glass to collect more heat during the winter months, reducing heating demand.
•A super-insulated envelope--roof and wall insulation exceeds state building code. Walls have an R-40 insulation rating (building code is R-22.2) and the roof has an R-70 rating (building code is R-13).
•A hydronic (water-based) heating and cooling system that uses radiant ceiling panels and a radiant floor in the atrium. The building is connected to the campus's central plant for chilled water and steam; the central plant has recently been upgraded to a more efficient system that uses no chlorofluorocarbon-based refrigerants.
•Forty-five percent less water use than a typical building that meets code requirements. Markim Hall is equipped with a low-flow showerhead and faucets. Bathrooms feature dual-flush toilets.
•Most building materials (seen and unseen) are made from recycled materials, were produced locally, come from certified forests, or are rapidly renewable. For example, floor tile is made from recycled porcelain, glass mosaic tiles are made from recycled bottles, and window sills are a product called ShetkaStone, made from recycled newspaper. Much of the wood, including the windows and all the wood paneling, is certified by the Forest Stewardship Council as sustainably harvested.
•Low- or zero- volatile organic compound paint, carpet, adhesives, sealants, wood products, and furniture.
•Optimizing the use of daylight and minimizing the use of artificial light. Most offices face south, which allows for controlled daylighting. The size and placement of windows allows for as much natural light as possible while avoiding glare and excessive heat gain.
•Sensors in each room that dim or turn off lights when there is adequate daylight or when a room is unoccupied for a period of time.
•Internal window blinds and external sunshades that block the direct rays of the sun, to limit heat gain and glare.
•Plantings on the site that are either native to the area or adaptive, meaning they are not invasive and do not require large quantities of water. In fact, no permanent irrigation has been installed on the site. (About 30 percent of water used in the U.S. goes to irrigation.)
•A drop-off area, but no parking lot. The college is encouraging use of bus lines and has several initiatives underway to reduce the number of single-driver commute trips to campus.
Macalester is also purchasing carbon offsets to cover all of Markim Hall's heating, cooling and electricity consumption.
Bruner/Cott & Associates, Inc. of Cambridge, Mass. was the architect and McGough Companies of St. Paul, Minn. constructed the building.
Markim Hall has won a Building of America Award and is scheduled to be featured in the upcoming Green Building of America-Midwest Green edition publication.
Markim Hall is located at one of the busiest intersections--Grand and Snelling Avenues-- in St. Paul, Minnesota. As part of its application for LEED-platinum certification, Markim Hall promises to be an educational resource to the broader community interested in sustainable design.
Macalester College, founded in 1874, is a national liberal arts college with a full-time enrollment of 1,858 students. Macalester is nationally recognized for its long-standing commitment to academic excellence, internationalism, multiculturalism and civic engagement.
NOTE: For hi-res photo of Markim Hall, click on link:
http://www.macalester.edu/whatshappening/press/downloads/Macalester_MarkimHall_exterior.jpg
Contact:
Barbara K. Laskin
(651) 696-6203
###