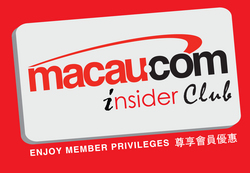 Macau, China (PRWEB) May 29, 2008
MACAU.COM, the leading online destination marketing and travel company in Macau, has launched a membership program which gives its members access to exclusive privileges and discounts at top Macau attractions, restaurants, bars, spas and shops.
Members and those who register for a free membership of the Macau.com Insider Club can download and print e-coupons from http://www.macau.com. Membership of the Insider Club, which was launched last month, will now include privileges and discounts at a growing number of Insider Club partners, which include retailers at The Venetian Macao-Resort-Hotel, Macau Fisherman's Wharf, AJ Hackett and the Macau Tower Convention & Entertainment Centre.
Macau.com's CEO Christina Siaw says: "People planning trips to Macau already use us as a resource for advice on where to go and what to do and now they also have special deals they take advantage of while they're here. We are a city vertical where people can easily search, shop and buy on the same platform."
She adds: "The entertainment scene is evolving rapidly, with new shows like Cirque du Soleil and a growing number of restaurants and bars entering the market. Our goal is to promote Macau as an exciting destination with such diversity that repeat visitors can always experience something new. To achieve this, we will continue to provide great room rates while working to get our members VIP treatment at some of Macau's hottest spots."
Macau.com Insider Club Members also receive a free fortnightly subscription to the Insider e-newsletter with news on Macau as well as regular members-only hot deals such as the USD1 Room special promotion which ran last month. To sign up for the Macau.com Insider Club, please go to http://www.macau.com.
About Macau.com:
Macau.com is the premier web portal and online travel agency for hotel accommodation, packaged tour products for Macau and the Pearl Delta Region. With a secure and technologically advanced online booking engine, Macau.com's services are targeted at Macau-bound travelers coming from Mainland China, Hong Kong and high growth-tourist areas including Southeast Asia, Taiwan, Australia and North Asian markets such as Japan and Korea. The company is owned by MKW Capital Management, a private equity firm with investments in Macau-based businesses including international airline VIVA Macau.
###