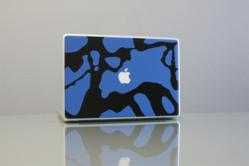 Fort Lauderdale, FL. (PRWEB) August 31, 2012
Mac Decals launches its latest promotion to reward loyal customers and showcase its newest skins and decal designs.
Starting September 8th 2012 All Macbook Pro skins and decals will be available at a discounted price in the 2 for $15 promotion. To obtain this discount users must visit Mac Decals and write the promo code [ RISSROSE ] . This code will give you ability to choose from their wide selection of unique designs and color schemes available on the site. The Campaign is to encourage customers to be creative and mix-&-match Macbook Pro skins and decals.
This Promotion will only last 2 weeks until September 21, 2012 or while supply lasts. So to take advantage of this offer and not miss out, please visit macdeclas.com. Don't worry if you miss out on this offer, the Mac Decals team is constantly posting promotions for its customers.
Like MacDecals us on Facebook to be up-to-date on all the contests and promotions available.
About Mac Decals
Founded in 2011, Mac Decals offers more than 200 original decals and gives customers the ability to create their own Mac Decals products are made with a high quality vinyl material that not only protects devices from scratches and blemishes, but also gives them a unique, cleaner look and feel. Decals and skins are available in multiple sizes for multiple devices, and have a range of designs aimed at various individuals such as: gamers, movie aficionados, music lovers, businesses, and many more.
For more information on the product or to go order online, visit
http://www.macdecals.com