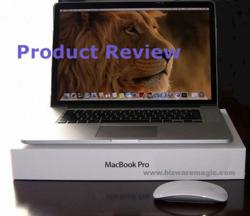 Potential buyers will find it helpful to check out this detailed review of the 15 Inch MacBook Pro with Retina Display before making any purchasing decisions.
(PRWEB) April 08, 2013
Recently, a detailed review of the 15 inch MacBook Pro with Retina Display was added to the Laptop Buyer's Section on the Bizwaremagic site. This informative review takes a closer look at this innovative Apple notebook computer with its revolutionary Retina Display.
The review resulted from months of "hands-on" experience with the MacBook Pro laptop, which sports the new Ivy Bridge 3rd generation Intel i7-3615QM 2.3GHz quad-core processor and the OS X 10.8 (Mountain Lion) operating system. It also has 8GB DDR3L SDRAM and dual switchable graphics - Integrated Intel HD 4000 plus NVIDIA GeForce GT 650M.
The MacBook Pro has a 15.4-inch 2880x1800 glossy display and weighs only 4.46 pounds. It is also extremely thin for a laptop of this size - just 0.71 inches thick. While there is no Optical Drive, the laptop does have a HD webcam and all of the latest connector ports. Combine all these features with both a 250 GB Macintosh Hard Drive and a fast 251 GB Flash Storage - one has an extremely responsive high-end laptop which boots up and shuts-down almost instantly.
"The main component for me was the Retina Display," says Titus Hoskins who wrote the review. "Being an artist and web designer, having a high performance machine with superior graphics and visuals are paramount, this MacBook Pro delivers on all fronts."
The review also examines the performance levels of the touchpad, keyboard, sound system... and of course, the Retina Display feature. No doubt, any potential buyers of this laptop, will find this review a helpful resource.
The MacBook Pro review is located here: http://www.bizwaremagic.com/15_Inch_MacBook_Pro_Retina_Display_Review.htm or Download our comprehensive laptop guide: http://www.laptopcomputerguide.org Bizwaremagic.com is a handy 11 year old site which features many free guides and resources. All products/companies mentioned above are registered trademarks of their respective owners and companies.