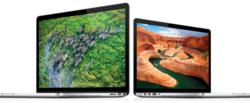 I love the new Macbook Pro 13 with Retina Display! Its great for work and play
Norfolk, VA (PRWEB) November 10, 2012
Exchange USA, a military lending specialist, announces the addition of the new Apple MacBook Pro 13" with Retina Display. The popular new product is now available for delivery to military consumers. The newest version MacBook Pro in inventory and ready for immediate delivery. In the spirit of the holidays the company is offering free UPS shipping to domestic orders now through Christmas 2012!
According to Apple, "One look and it's clear: With over 4 million pixels on the 13 inch model, the Retina Display on a MacBook Pro is an incredible engineering feature. Whether retouching professional photography or editing a home movie in HD, all those pixels give images a level of clarity you've never seen on any other notebook, or computer for that matter."
The Retina display that everyone is excited about reduces glare while maintaining incredible color and quality. Blacks are blacker, whites are whiter, and everything in between is rich and vibrant. "From every angle, the view is the same. I love the new MacBook Pro 13 with Retina Display, its great for work and play!" stated Kaila Hector, Exchange USA Store Director.
In addition to the new MacBook Pro 13" with Retina Display, the company offers the entire Apple line-up, including the new iPad4, the iPad Mini, all iPod models, iMacs, and the iPhone. Exchange USA also offers the MacBook Pro 15" with Retina display. The company has available a full product set including furniture, rims, tires, computers, jewelry, home appliances, scooters, and also offers military flight loans through Exchange USA Military Travel Services.
Exchange USA is based in the newly revamped East Beach Shopping Center at the corner of Shore Drive and East Little Creek Road. Offering consumer and military financing on lifestyle products and travel, Exchange USA was founded in 2009 and is has quickly become a local market leader. Located at 4039 E Little Creek Rd., the company can be reached at 757-695-3388 or through their website at http://www.myexchangestore.com