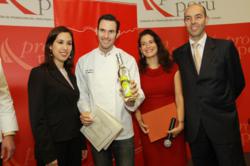 The flavors we have been experiencing are so unique I even had to reformulate my recipe since the citrus here is unlike anything I tasted before." Zack Patterson
Lima, Peru (PRWEB) September 13, 2011
Macchu Pisco LLC and Peru's Tourism Agency, Prom Peru, are hosting seven American bartenders who won regional competitions in anticipation of the grand finale of the Centennial Macchu Pisco Sour Competition. The winning cocktail, "Corazon Morado," belongs to Zach Patterson of STK Restaurant representing the city of Los Angeles.
Over the course of the last 6 months, Macchu Pisco LLC combed the country in its search for 7 representatives who would be flown to Peru in their quest to win the coveted title of "Centennial Macchu Pisco Sour." The lucky 7 winners were: Clinton Terry of Alexandria, VA, Jason Stritch of Washington DC, Naomi Levy of Boston, MA, Thomas Waugh of New York, NY, Jessica Maria of San Francisco, CA, Zach Patterson of Los Angeles, CA and Wendie Hodges of Las Vegas, NV.
The organizers of the competition chose this week to host this talented bevy of American bartenders not only to commemorate Peru's crown jewel of tourism, Machu Picchu, but also to highlight the rising profile of Peru's gastronomy in the world culinary scene. This week marks the start of Mistura, the largest gastronomic event in South America, held annually in Lima.
Melanie Asher, founder of Macchu Pisco, noted, "This is a momentous year for Peru. We are celebrating the re-discovery of Machu Picchu, which is recognized as one of the seven New Wonders of the World, for the first time Peru had two entries in San Pellegrino's World's Best List of restaurants and Pisco exports are forecasted to reach record highs."
Lizzie Asher, President of Macchu Pisco, chimed in "Peru is hosting this week at Mistura Ferran Adria of El Bulli, Dan Barber of Blue Hill and even Rene Redezipi of Noma, currently the #1 restaurant in the world. So, it's only fitting that we should also be hosting simultaneously the most talented mixologists from the US who have embraced our national spirit, Pisco."
Although only one participant could emerge as the winner, Prom Peru anointed each of the semi-finalists as Pisco Ambassadors. Lizzie Asher continued, "We hope that as our cuisine becomes better known that our Pisco will too, and for this we need to have educated bartenders who've experienced our country and distinct culinary flavors to showcase the versatility of this white spirit."
As such, all the mixologists will be spending time at Mistura sampling foods from all corners of Peru and then journey to the Pisco valley to visit Macchu Pisco's distillery where the company produces its award winning single-grape Quebranta, Macchu Pisco, and its prized pisco blend, La Diablada.
###