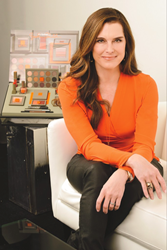 BeautyStat.com continues to rovide its readers with breaking beauty news including new launches from MAC Cosmetics.
(PRWEB) August 12, 2014
BeautyStat.com continues to provide its readers with breaking beauty news including new launches from MAC Cosmetics.
MAC Cosmetics continues to surprise us with its celebrity and rockstar collaborations. Known for working with artists like Cindy Sherman, pop icons like Rihanna and iconic cartoon characters like Miss Piggy and Marge Simpson, MAC is welcoming its latest superstar: America's sweetheart, actress and author, Brooke Shields.
According to WWD, the collection will debut in October 2014 with 15 skus ranging from $17 to $85. The standout item is the 16-shade eyeshadow palette, ranging from pale neutrals to matte black.The on-counter date is slated for October 2nd.
See exclusive photos here>> MAC Cosmetics Brooke Shields Beauty Icon Collection Review Swatches.
And see more of MAC Cosmetics breaking news and photos here>> MAC Cosmetics Makeup Collection Reviews/Swatches 2014, 2015
You can purchase all reviewed and mentioned items using the beauty comparison shopping site, http://www.BeautyStat.com.
************************************************************
BeautyStat.com is an online beauty retail platform (that features makeup, skincare and haircare reviews). It has been featured in Womens Wear Daily, LA Times, New York Times, Forbes Magazine, NBC and CBS News. The strength of BeautyStat.com is its captive, engaged and influential 200,000+ community, 190+ blogger network and 40 million social network reach. BeautyStat.com works with beauty brands, retailers and PR agencies to connect them to the BeautyStat community for e-commerce, advertising and rich consumer insights.