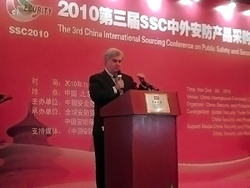 While honored to be invited to represent US security companies, I felt it was important to help guide and advise Chinese suppliers how to properly deal with the American market
Horsham, PA (Vocus) November 16, 2010
Earlier this month, Dennis R. Raefield, CEO and President of Mace Security International, Inc. ("Mace" or the "Company") (OTCQB: MACE) delivered a keynote speech in Beijing at SSC 2010: the 3rd China International Sourcing Conference on Public Safety and Security.
During his speech, Dennis covered several key topics such as US Companies' expectations on business ethics, and addressed issues on how Chinese suppliers could better serve US customers, improve customer service, and respect their US partner relationships. He reiterated the need for China and the US to remain business partners through all the recent changes in political leadership and direction between the two countries. Mr. Raefield also spoke about the recovering US security market and his positive projections for the coming 2011 year.
The Security Sourcing Conference is one of the biggest public safety and security conferences in China and attracts exhibitors, visitors and major market players from the global security industry. The key focus of the conference is to introduce top Chinese suppliers to the buyer's market, discuss emerging trends within the security industry, and launch new products within the CCTV Surveillance, Access Control, Intrusion detection and related security product categories.
"While honored to be invited to represent US security companies, I felt it was important to help guide and advise Chinese suppliers how to properly deal with the American market," stated Dennis Raefield, CEO of Mace Security International. "Many un-informed Chinese companies have been trying to flood the US security market with email blasts offering low cost, low quality and unsupported products. It is important that we help the quality China suppliers to know the proper way to deal with the US, with strong, service oriented partners like Mace. The audience was very receptive and supportive in learning how to do business with the US Security market."
About Mace
Mace Security International, Inc. is a manufacturer of personal defense and electronic surveillance products marketed under the famous brand name Mace®, and the owner and operator of a wholesale central monitoring station. Mace's web site is http://www.mace.com.
Certain statements and information included in this press release constitute "forward-looking statements" within the meaning of the Federal Private Securities Litigation Reform Act of 1995. When used in this press release, the words or phrases "will likely result", "are expected to", "will continue", "is anticipated", "estimate", "projected", "intend to" or similar expressions are intended to identify "forward-looking statements" within the meaning of the Private Securities Litigation Reform Act of 1995. Such statements are subject to certain risks, known and unknown, and uncertainties, including but not limited to economic conditions, dependence on management, our ability to compete with competitors, dilution to shareholders, and limited capital resources. A discussion of factors that could materially adversely affect the Company's financial performance and cause actual results for future periods to differ materially from the statements expressed within this press release, and management's opinions projections, forecasts, estimates and expectations are contained under the heading "Risk Factors" in Mace's SEC filings, including its registration statements and its periodic reports on Form 10-K and Form 10-Q. This press release should also be read in conjunction with the financial statements and notes contained in Mace's annual reports on Form 10-K, quarterly reports on Form 10-Q and current reports on Form 8-K.
###