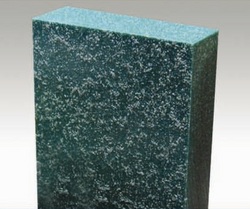 Reading, PA (Vocus) July 31, 2008
Borotron® HD050 from Quadrant Engineering Plastic Products (Quadrant EPP) is a high-density polyethylene (HDPE) formulation enhanced with 5% elemental boron that provides extra shielding against neutron radiation. The combination of boron within a matrix of HDPE, a naturally hydrogen rich material, can work well in nuclear shielding applica-tions. Hydrogen rich materials attenuate neutrons extremely well and boron has an affinity for absorbing thermalized neutrons.
Potential uses include shielding for radiation therapy rooms, where the product in plate form is integrated into the wall structure. Other application environments where its properties bring simi-lar benefits include nuclear research centers, nuclear power plants, power generation areas in nuclear submarines, production areas for nuclear detection devices and the equipment itself, and spacecraft exposed to radiation.
Quadrant EPP has developed a manufacturing process and proprietary testing methods that help ensure that the boron is evenly distributed for peak performance. Borotron® HD050 plate is lighter than some other neutron shielding materials such as concrete, and easier to work with in construction than other options including water.
The new Quadrant EPP material is currently available in 1" x 48" x 96" plates.
About Quadrant EPP:
Quadrant EPP's products range from UHMW polyethylene, nylon and acetal to ultra-high per-formance polymers that resist temperatures to over 800°F (425°C). The company's products are used for machined parts in food processing and packaging, semiconductor manufacturing, aero-space, electronics, chemical processing, life sciences, power generation and diverse industrial equipment. Quadrant EPP's products are supported by a global team of application development and technical service engineers.
Full support in evaluating designs and machining of parts is available from Quadrant Engineering Plastic Products' Technical Support Group. Learn more about Quadrant at http://www.quadrantplastics.com.
Acetron, CleanStat, Duraspin, Duratron, Erta, Ertalyte, Ertalene, Ertalon, Extreme Materials, Fluorosint, Ketron, MC, Monocast, Nylatron, Nylasteel, Polypenco, Proteus, Sanalite, Semitron, Techtron, TIVAR and Vibratuf are registered trademarks of the Quadrant group of companies.
###