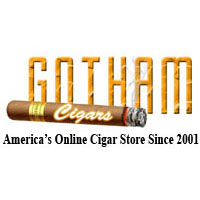 Gotham Cigars offers the largest collection of high quality cigars, humidors, custom lighters and tins in the country
Miami, FL (PRWEB) November 17, 2012
Gotham Cigars is offering a Buy 1 Get 1 Free offer on Phillies Blunt Cigars available for $46.95. These machine made cigars are one of the most popular cigars in the United States. Bayuk Cigar in Philadelphia originally created these Phillies Blunt Buy 1 Get 1 cigars over a century ago. Phillies Blunt offers one of the most extensive selections of cigars in a variety of shapes, sizes and flavors that will appeal to all value-seeking smokers. The Phillies Blunt cigar comes in 20 packs of 5 cigars.
Gotham Cigars sells a large selection of machine-made cigars such as the Al Capone Cigars, Swisher Sweets Cigars, Black and Mild Cigars, Dominican Cigars, Flavored Cigars, White Owl Cigars, and many more. Exciting day-to-day offers on supreme quality cigars at Gotham sets them apart from other online cigar stores. Cigar lovers with a limited budget can finally enjoy the taste of good cigars at a cost that won't break the bank. The vast online selection of machine-made cigars at reasonable rates has made it possible for people to shop for premium cigars easily from the comfort of home.
Gotham Cigars offers the largest collection of high quality cigars, humidors, custom lighters and tins in the country. By dealing directly with various manufacturers like Swisher Sweets, Gurkha, Acid, General Cigar, and dozens more, Gotham purchases high quality cigars and make an effort to sell them at the lowest prices possible. The prices are kept lower than any other cigar distributors or Eetailers. The online store offers award-winning cigars, closeout prices and free shipping on a huge selection of products. These aspects have earned them five-star ratings by the most trusted online comparison websites.
Gotham Cigars works on the plain and simple principles of five-star customer service, fast delivery and a huge selection. They built their business on these points and strive to provide valued customers with the best online shopping experience possible. All the cigars are thoroughly inspected by the manufacturers prior to arriving at the facility. They developed their site to be user-friendly and easy for customers to navigate. To find out more log on to http://www.gothamcigars.com