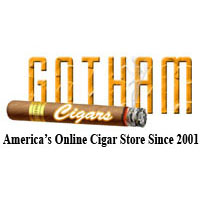 A selection of more than 150 different styles and brands of premium cigars are available along with 30 different brands of machine made cigars
Miami, FL (PRWEB) October 23, 2012
Gotham Cigars introduces new edition of Rocky Patel Man Cave Cigar Sampler at $27.50. This premium cigar features 4 top-notch Rocky sticks that make for the perfect smoke while relaxing in your man cave. This Rocky Patel Man Cave Edition Sampler contains two of the highly anticipated Rocky Patel Burn, Naples Toro and two of the creamy and classic Vintage Cameroon 2003 Toro cigars.
Rocky Patel is known by cigar aficionados for the perfect blend of smooth smoking and great taste. The full bodied smoke of Rocky Patel cigars is distinct for this Ecuadorian grown masterpiece. Gotham Cigars offers a full line of award winning cigars by Rocky Patel at the lowest prices. This includes the legendary Rocky Patel Vintage series, Rocky Patel Sun Grown Cigars, and Vaunted Rocky Patel Decade cigars. The Rocky Patel Vintage Cigars are the recent addition to their selection that is crafted from a filler and binder that have been aged a full eight years.
Gotham Cigars also provides consumers with a large inventory of premium cigars from a multitude of several manufacturers, and in a wide array of sizes, shapes, styles and flavors. From Gurkha to Arturo Fuente, and from Antonio y Cleopatra to Zig Zag Cigars, cigar fans will find every kind of smoke imaginable at GothamCigars.com and always at guaranteed lowest prices. The online cigar store also offers daily deals and specials on a wide variety of cigars and cigar accessories of all kinds.
A selection of more than 150 different styles and brands of premium cigars are available along with 30 different brands of machine made cigars. In addition, to provide customers the benefit of faster product search, Filtered, Little, Tubes, and Cigarette Paper are separated from general domestic tobacco products.
About the Company
Gotham Cigars works on the plain and simple principles of five star customer service, fast shipping, and huge selection. They built their business on these 3 points and strive to provide valued customers the best online shopping experience possible. All the cigars are thoroughly inspected by the manufacturers prior to arriving at their facility. They developed their site to be easy for customers to navigate to the products they are looking for. To know more visit http://www.gothamcigars.com