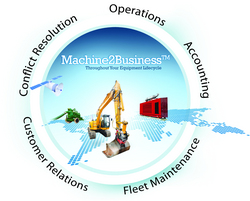 ZTR's M2B approach made our telematics system a real part of the business!
Minneapolis, MN (PRWEB) March 24, 2011
ZTR Control Systems announced a new telematics methodology called Machine2Business™. M2B™ takes machine-to-machine one step further, shifting the focus from data collection to data reporting and producing efficiencies. M2B™ connects remote equipment to those responsible, enabling intelligent two-way communication and adaptive changes in both the machine and the organization's processes.
Machine2Business™ enables Fleet Managers and Field Technicians to take quick action with the most efficient work flow, which reduces costs and increases customer loyalty. M2B™ utilizes advanced triggers and schedules to deliver reports at the right time with utilization-based information. Customized browser dashboards use gadgets to easily push information right to your desktop. Smartphone apps, such as ZTR's Near Me™, deliver real-time information to people on the move. And finally, business integration makes the remote equipment monitoring system a part of your normal processes, rather than a separate island.
ZTR new Solutions Management Group works with customers to identify the goals of their telematics system, as well as the best way to integrate with their business. This group guides the M2B™ implementation to assure a return on investment for your telematics system.
About ZTR Control Systems:
ZTR Control Systems is a privately held company with offices in Minneapolis, Minnesota USA and London, Ontario Canada. ZTR is dedicated to developing intelligent equipment management solutions for the off-highway equipment and railway equipment markets. http://www.ztr.com
# # #