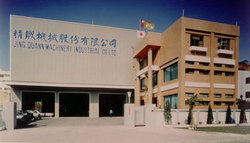 Creating our own know-how and patent techniques make us stand out from the competition. Many OEM manufacturers lack self-innovation and knowledge, which causes a high rate of machine breakdown
(PRWEB) January 25, 2008
Jing Duann has engaged in application of automation technology, it believes an advanced full-automatic production line definitely assists customers and helps the company meet various market demands promptly, strengthening their core competence.
Established in 1977, Jing Duann is specialized in the manufacture of forging press, forging machine, forming machine, metal forging machine, roll forging machine and warm forging machine; the production capability of machines could reach from 400 tons to 1600 tons.
Since 1979, when Jing Duann introduced its first innovation-C Series Air Press Machine, its state of the art design and continuous efforts have earned the trust of customers worldwide. Jing Duann was honored with the title "Prominent of Forging Technological Development" issued by Taiwan Forging Association. It also gained ISO9001:2000 certification for Product Development and Quality of Service in 2001.
Jing Duann has worked with a wide-range of industrial component suppliers, providing motorcycle forge parts, bicycle parts, hand tools, sport equipment and valves. The company both serves local customers and exports to China, India, South Asia and South America.
Awarded ISO9002 quality system certification, Jing Duann's Taiwan main factory is located in the Taichung Industrial Park with total floor area of 2,465 square meters. It efficiently supports an annual output of 100 machines. All products accord with CE and CNS standards.
***Products Focus***
Made of durable stainless steel welded plates and enhanced by heat treatment, all machines are well equipped with a multi-station forging function and double layer guide ways. They could sustain heavy loads. The long hours of manufacturing mean even the eccentric shaft can't be deformed. In addition, products can survive long journeys given the forging process.
FP Series of High Speed Hot/Warm Forging Press is highly recommended for the forging of hand tools, vehicles, bicycles, trains, ships, textile machines, conveying equipment, mining machinery and hardware components. Its eight-faced guiding ways and link-rod adjustable device complete high-quality forging with great precision. More features, including worldwide patented mold-stuck release design, multiple safety circuit system and digital forging pressure control, can also be installed. To reduce friction between mechanical parts and extend the life of the mold, a PLC controlled lubrication system effectively prevents the oil circuits from clogging and oil from being exhausted. Jing Duann also provides the TP Series for vertical rod material forging depending on customers' requirements.
Competing with Japanese technology, Jing Duann JKP Knuckle Joint Cold Forging Press has proven to be a great value in the market. Working with automatic feeding equipment, its output reaches 10,000pcs/8hrs with a low defect rate, which means ideal unmanned operation and total cost savings.
***Turnkey Project Service***
Recently, Jing Duann served a motor parts manufacturer in Vietnam, from establishing a plant layout, work-flow arrangement, equipment installation, and mold design, to training personnel on forging techniques. Jing Duann sent a senior forging engineer for technical consultation until the products are officially released.
As Jing Duann Senior Assistant to the President, Eddy Chen emphasized. "We not only provide total turnkey solution for customers, but also pay more attention to what they need, especially for beginners in the forging business. Whatever our customers ask for, we are there to assist them to achieve their goals."
***Strong R&D Power***
"Creating our own know-how and patent techniques make us stand out from the competition. Many OEM manufacturers lack self-innovation and knowledge, which causes a high rate of machine breakdown," Chen said.
Jing Duann's strong R&D team is supported by an MA degree in engineering from Japan and experienced forging experts. The company insists that the balance of technical theory and practice makes machines more complete, with outstanding function and user-friendly operation.
###