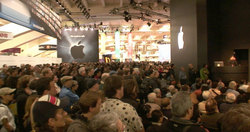 There is only so much a DVD can hold and we have many hours of original, never-before-seen interviews that go beyond the film
Los Angeles (PRWEB) September 15, 2008
The documentary Welcome to Macintosh has been selected to present at the 2008 Naperville Independent Film Festival in Naperville, Illinois. The festival runs from September 24th through the 27th, with Welcome to Macintosh screening Thursday September 25th at 12:15pm. This comes on the heels of a September 5th screening in Berlin for the Globians Documentary Film Festival.
About the Festival
The mission of the Naperville Independent Film Festival is to promote, encourage, and inspire local and international filmmakers, future filmmakers, and those passionate about the film industry, while encouraging cultural tourism and film industry development in and around Naperville, Illinois.
The festival in Naperville marks the first time Welcome to Macintosh will be presented in the US since adding an interview with original Apple co-founder Ron Wayne. Wayne helped found the Apple Computer Company with Steve Jobs and Steve Wozniak in the late 70's. The exclusive interview was added to the lineup just prior to the films European premiere at the Globians Documentary Film Festival in August.
About the Movie
Welcome to Macintosh is a documentary that mixes history, criticism and an unapologetic revelry of all things Apple. The film explores the early years of Apple up to the present through the eyes of Apple employees, engineers, resellers and supporters. Interviews include notable Apple personalities: Andy Hertzfeld, co-creator of the original Macintosh, Guy Kawasaki, long time Mac evangelist, Leander Khaney, author of the book "Cult of Mac", Jim Reekes, creator of the start-up sound and Ron Wayne, original co-founder of the Apple Computer Company.
Distribution
"We are currently in talks with a number of distributors looking to bring Welcome to Macintosh to an international audience," stated Robert Baca, Co-Director. "We should have some exciting news to share later this year."
The filmmakers have also stated that they have their sights set for a winter DVD release.
"The DVD is on target for our internal deadlines, which means we will make a formal announcement soon. For now, lets just say it will be cold in New York and warm in Australia when we do," stated Josh Rizzo, Co-director.
"There is only so much a DVD can hold and we have many hours of original, never-before-seen interviews that go beyond the film," added Baca. "It has been a challenge to condense it down."
Both Rob and Josh are planning to attend the September 25th screening in Naperville, and the discussion panel the following morning.
Tickets are available from the Naperville website: Naperville Website
Community
The Welcome to Macintosh Network currently has over 700 members from around the world. Members gain exclusive access to extra interviews, photos and news about the film. Members are able to share stories, pictures and movies that relate to their Apple experiences.
###