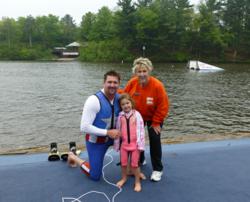 It's just amazing and heartwarming to see our alumni passing along this great tradition and talent to their children and grandchildren
WISCONSIN DELLS, Wis. (PRWEB) June 12, 2013
Showing off the best in waterskiing is what the Tommy Bartlett Show is known for. Behind the scenes, new talent is being cultivated through generations of families that have grown up at the iconic Wisconsin Dells attraction. Occasionally a young skier gets out in front of the audience at a particularly young age, as was the case with four-year-old Mackenzie May, who made her first official pass as a Tommy Bartlett water-skier during a recent visit to the site where her father, grandmother and great uncle have performed over the Show's 61-year history.
"It's just amazing and heartwarming to see our alumni passing along this great tradition and talent to their children and grandchildren," said Tom Diehl, general manager of Tommy Bartlett, Inc. "To have a first, third-generation skier begin on our water stage is a thrill."
Mackenzie is the daughter of Wisconsin Dells native, long-time Tommy Bartlett alumni skier Mathew May, who himself began skiing in the Show at age two. Through his youth, Matt was a regular performer in the Show and was considered the World's Youngest Professional Water-skier at that time. Matt also is a nationally recognized competitive skier with many titles to his name.
"Tommy Bartlett's is a true family; it was such a special moment having Mackenzie ski in the Show," said Matthew May. "I have skied and performed all around the world, but there is no home like Lake Delton and the Tommy Bartlett Show."
Matt skied from 1977-1997 in Wisconsin Dells and went on to ski professionally in other shows, including Sea World and Marine World, and at locales across the globe including Japan, Germany and Australia. He became even more well-known in the world of competitive skiing from age seven on, earning a prestigious list of titles including three-time National Freestyle Jump Champion, Collegiate All-American in Ski Jumping, National Barefoot Champion and two-time Australian National Jump Champion. Matt's most recent title came this year when he entered the Australian Nationals after a 15-year hiatus, and earned the ski jumping championship for his age group (35-45 years old).
At home on Australia's Gold Coast is where Mackenzie first started to learn to ski just last fall. Skiing is in her blood, as her mother Sam was also a show skier which is how she and Matt met. The ski lessons were all in anticipation of a visit to Wisconsin Dells this summer to see her grandmother – Matt's mother – Judes Gilkerson, also a Tommy Bartlett alumnus. Judes was recruited to become a Tommy Bartlett skier in 1962 by her older brother Skip, also a very accomplished skier from the Show's history and Matt's teacher and ski coach through the years. Judes has remained an active part of the Bartlett family, returning to the Show last year to manage the concessions operations.
"I am very proud of Mackenzie. The years go by so fast so it's good to be a part of these milestones," said Gilkerson, who added that the beloved Show is one big extended family, spanning several generations of individual family groups like hers.
Since its inception more than six decades ago, well over 1,000 water-skiers have performed in the Tommy Bartlett Show. It has survived the test of time, like no other attraction of its era.
"We celebrate these small milestones, like a four-year-old taking that first Tommy Bartlett water-ski pass, because it's important to the future of our Tommy Bartlett family," said Diehl. "Our Show still exists because of young people who get involved in this sport and see how they can share their love of waterskiing with audiences in Wisconsin and beyond."
The Tommy Bartlett Show is one of Wisconsin's most-beloved classic attractions. Generations of families have enjoyed a visit to the Show each summer during their Wisconsin Dells vacations. The Tommy Bartlett Show runs daily, rain or shine, at 4:30 and 8:30 p.m., through Labor Day weekend. General admission tickets are $21 for adults, $16.80 for seniors and $11 for children ages 6 to 11. Children five and younger are free if they sit on an adult's lap. Reserved seating for the 8:30 p.m. Show is available at an additional cost. For more information, please call (608) 254-2525 or visit tommybartlett.com.