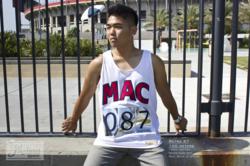 Be MACnificent.
Los Angeles, CA (PRWEB) July 31, 2012
It's here. With determination and God-given talent, Martel and Raymond Courtney premier the MACnificent Summer 2012 line. MACnificent Collection has transcended from the dream of two creative teenage brothers from Los Angeles, CA into an anticipated clothing line. Their debut line combines classic tees, hoodies, and tank tops with luxurious details, such as gold printed lettering and suede like material. This line also includes garments inspired by the 2012 London Olympics.
Check out the Summer 2012 London Olympic Look Book.
The Courtney brothers, who study the Fine Arts and Entrepreneurship, design their pieces with the intention of bringing a fresh new look to the fashion industry through their 'Streetwear' inspired pieces. However, wearing these pieces is not enough. The Courtney brothers ask their consumers to "BE MACnificent", turning an awareness into an idea/concept. With self-determination and individualism, this concept materializes into a belief that anyone anywhere can convert their thoughts into reality, as the brothers are doing.
Now, The Courtney brothers aren't the only ones believing in their dreams of turning their concepts into a full on clothing label. In May of 2012, the University of Southern California Grief Center for Entrepreneurship accepted MACnificent Collection owners to participate in the Accelerator+Incubator+Mentoring (AIM) Program. This program includes funding, meeting spaces, and opportunities to meet with investors. With this backing, the line will be able to compete with established design houses, and will expand to become a national commodity.
MACnificent Collection has been invited on numerous occasions to display their art. From August 20th to August 22nd, the Courtney brothers will première their summer collection at the MAGIC Apparel Show, under the "Street" category. The show will provide additional opportunities for the brothers to market their dream to purchasers, sales representatives, musicians, athletes, and consumers. With the experience from their Second fashion show, the USC 2012 4th Annual Gearfest, their exhibition promises to be a success.
For information on the MACnificent Collection, please visit macclothes.com