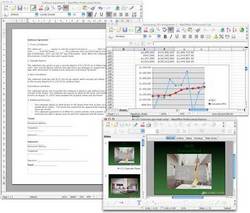 New York, NY (PRWEB) August 15, 2007
MacOffice Professional is changing the face of Office suites on OS X. For years, Mac users have had to live with second-class office suites: no support for current document formats, no database support and no native Intel support. Web technologies have been poorly supported at best and VBA (Visual Basic For Applications) macros were completely incompatible with Mac office versions. MacOffice Professional changes all of this, bringing professional yet easy-to-use word processing, spreadsheet, presentations, relational database, equation editing, charting and drawing to all users of Mac OS X 10.3 or later.
MacOffice Professional is shipping with both PowerPC and Intel-native versions on the same DVD-ROM. Compatibility with the latest Windows office suites is ensured: VBA (Visual Basic for Applications) macros are supported as well as the latest file formats, up to Microsoft Office 2007. MacOffice Pro doesn't stop there, though: Over 80 file formats are fully supported, ensuring that OS X users will never have to worry about opening virtually any document they receive. Mac users will never have to settle for a watered-down office suite again.
More complex office tasks, such as Equation and formula editing, database design, mail merge, remote database access and web publishing can be daunting for both first-time and veteran office suite users. MacOffice Professional makes these and other activities easy through the use of powerful, step-by-step "wizards". Guiding you through each step of the desired process, MacOffice Pro wizards help you create professional results quickly, and without the steep learning curve that other office suites demand.
We're confident that you'll agree that MacOffice Professional is the biggest advance in Office Suite software on the Mac -- ever. To make sure that it's accessible to as many Mac users as possible, we're pleased to offer MacOffice Professional, shipped on a DVD-ROM for any Mac running OS X 10.3 or later, PowerPC or Intel, for only $47.95 plus shipping for a limited time -- that's less than one-sixth the price of the leading Office suite.
To order or for more information, please visit http://www.macofficepro.com
###