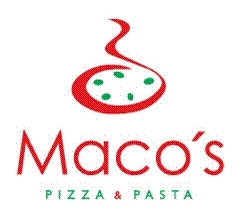 Miami, FL (PRWEB) April 6, 2010
Maco's Pizza & Pasta has opened in South Miami. Maco's offers freshly made Italian food that is both convenient and affordable. An overview of the new restaurant includes:
Type of food: Italian pasta and pizza, subs and salads
Type of pizza: New York Style pizza, fresh old-fashion hand-tossed pizza with high quality cheese.
Type of restaurant: On-site dining, delivery and takeout
Target Market: Local community, businesses and families
Characteristics:

Family-friendly pricing
Convenient online ordering system
Fresh ingredients
Restaurant hours:

Tuesdays - Thursdays from 11:00 AM to 9:00 PM
Fridays - Saturdays from 11:00 AM to 10:00 PM
Sundays from 12:00 NOON to 9:00 PM
Mondays CLOSED
Opening day: Thursday, April 1, 2010
While delivery and takeout options offer two convenient ways to enjoy Maco's variety of dishes, small on-site dining area was kept for those who prefer to eat on the go.
Maco's objective is to serve families and business people who expect a high standard of fresh ingredients, quick service and reasonable prices. Students will also find that the dining options and pricing agree with their college lifestyle.
Jesus L. Rosas, President of Maco's Pizza & Pasta, points out that, "The World Economy has affected the financial situation of every household in America; with that in mind, we have made Maco's Pizza & Pasta a convenient, affordable, and delicious dining option for the area residents. It is not the same to have lunch for a family of two or a family of five. Our goal is to enable families to gather at the table, whether at home or at the restaurant, while enjoying food at affordable price."
While Maco's Pizza & Pasta Italian food menu features freshly made pasta and pizza dishes, it also caters to the needs of time-pressed business people with variety of subs. Health-conscious patrons will appreciate the variety of delicious salads.
"At Maco's, we believe that great food should be available to all; regardless of social or financial situation. That is why we are always striving to offer our customers dishes with great taste at the right price. We do not compromise neither on quality nor service," adds Carlos E. Rosas, Executive Vice-President.
For more information about Maco's Pizza & Pasta visit our website at http://www.macospizza.com.
About Maco's Pizza & Pasta
Located near the premises of Dadeland Mall in South Miami, Maco´s brings to the area new style, new approach and new quality in produce as well as service.
The Rosas family from Panama is an example of culture diversity which has helped to bring diversity of flavors into their cooking, and more importantly into their Italian cuisine. Inspired mostly in Napoli, they also welcome in their kitchen the exiting variety of flavors from other regions of Italy.
###