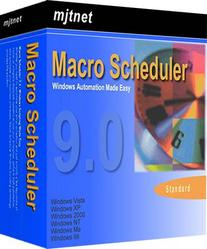 We've had an amazing 10 years since Macro Scheduler was first introduced and we're proud of the achievements we've made. I'm especially grateful for the amazing loyalty and support we've received from our customers over the years
London, UK (PRWEB) October 15, 2007
MJT Net Ltd, the leading global provider of automation utilities and productivity software for Windows, has celebrated their 10th year in business. 1997 saw the launch of Macro Scheduler, an easy to use application that lets people automate repetitive Windows tasks and eliminate processing bottlenecks. Before Macro Scheduler, computer users had to spend endless hours working through mundane and complex manual software procedures. With Macro Scheduler, non-programmers can use the application to quickly and easily develop powerful routines that provide automated computer solutions. Users can solve their own computer-related problems, without depending upon their overworked IT departments.
Based on annual sales growth figures and recent customer survey results, Macro Scheduler has saved users an estimated 27,000 man-years in lost productivity since it was first launched in 1997.
Over the years, Macro Scheduler has continued to evolve, and innovative new features have been developed to further simplify software automation and improve reliability. This year saw the launch of Macro Scheduler 9.0 with image recognition technology that allows the program to "see" the screen. This makes it easy to base macro programs on the presence of images anywhere on the screen, including within Flash and Java applets. With Macro Scheduler, any technology can be automated, including software running in remote non-Windows operating systems.
"We've had an amazing 10 years since Macro Scheduler was first introduced and we're proud of the achievements we've made. I'm especially grateful for the amazing loyalty and support we've received from our customers over the years," said Marcus Tettmar, CEO Of MJT Net Ltd. "We remain committed to producing powerful, straightforward automation software and look forward to the next ten years of Macro Scheduler."
Whether you're a business analyst extracting important sales information from a legacy system, a business owner who needs to extract data from emails and the Internet, or a network administrator who needs to automate routine tasks, Macro Scheduler has all the tools that you need and more.
For more information, visit http://www.mjtnet.com/
About MJT Net Ltd
MJT Net Ltd develops and markets automation utilities and productivity software for business and home Windows users. Their flagship product, Macro Scheduler, was first released in 1997. With over 30,000 companies and individuals utilizing Macro Scheduler technologies, MJT Net has become synonymous with software automation and automated testing.
###