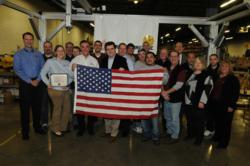 We're so proud to be here celebrating this 25 year landmark...
Croydon, Pa. (PRWEB) February 22, 2013
Macron Dynamics, Inc., a manufacturer of linear robotics motion systems and belt driven linear actuators, recently celebrated its 25-year anniversary in a ceremony with Pennsylvania congressman Michael Fitzpatrick. The private ceremony took place at Macron Dynamics' manufacturing facility outside of Philadelphia.
In honor of the business's 25-year anniversary, representative Fitzpatrick presented Anthony Cirone, president and cofounder of Macron Dynamics, with an American flag flown over the United States Capitol at the request of the congressman. Following the flag presentation, congressman Fitzpatrick personally congratulated the founders and employees of Macron Dynamics on their milestone, and gave a small speech reflecting the role of small businesses and manufacturing in America.
"We're so proud to be here celebrating this 25 year landmark," said Cirone. "None of this would be possible without our hardworking engineers, who come in and build these great products everyday, or our excellent sales team who go out and build strong connections with some incredible clients."
Macron Dynamics was founded in 1987 by Cirone and partner Joe Casillo, focusing on the sales of aluminum structural components to machine manufacturers. Today, Macron Dynamics has evolved to manufacture and engineer linear robotics and automation systems used in a range of markets and industries worldwide. Macron's linear robots can be found in applications including pick and place, assembly, storage and retrieval, material handling, palletizing, and packaging.
For additional information about representative Fitzpatrick's presentation to Macron Dynamics please call 1-800-MACRON-1 (1-800-622-7661). To learn more about Macron's products or see Macron's products in motion, visit http://www.macrondynamics.com.
About Macron Dynamics, Inc.
Macron Dynamics is a manufacturer of linear robotics solutions and mechanical motion components found in automation systems through the U.S. and around the world. For more than 25, Macron has refined each component and every product through time-tested installations and experience. Macron products are built with the highest quality materials, assembled in the USA, and engineered to withstand the abuses of rigorous, daily usage. Macron specializes in delivering automation solutions including single-axis, long travel, gantries and multi-axis linear robotics systems for a wide range of industries. Macron's unique product designs consist of both standard and configurable models that can be quickly modified to meet most robotics and automation application.