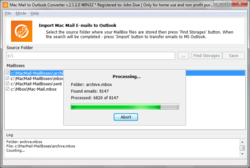 The program quickly and efficiently extracts email messages from Mac Mail's MBOX files.
Sacramento, CA (PRWEB) June 11, 2013
GlexSoft, a company known for its growing portfolio of top-quality data conversion and migration tools, announces the release of Mac Mail to Outlook Converter. The program quickly and efficiently extracts email messages from Mac Mail's MBOX files, converts them into the necessary format and saves them directly to Outlook or a standalone PST storage file. Unlike many similar solutions that require additional tools for extracting or converting data into an intermediate format, Mac Mail to Outlook Converter requires just one manual operation – copying of the source MBOX files from the source Mac system to a PC. Once done, the user specifies the source folder with the copied MBOX mailboxes and the destination PST file.
The Apple Mail to Outlook conversion program (download from official site) takes care of the rest, enabling users to perform large-scale migrations on their own and without leaving their workplaces, which saves money and reduces the downtime caused by the need to transfer emails from one system to another.
The intuitive interface of the mac mail conversion program guides the user from A to Z and leaves no room for ambiguity or human mistake. Mac Mail to Outlook Converter works with any number of MBOX files of any size, supports all major versions of Windows and Outlook (including 32 and 64-bit) and is capable of extracting and converting email messages from partially damaged MBOX mailbox files. The program was initially created for the mass market and users with basic PC skills, hence the simplicity of the interface and the overall ease of use.
"Our newest tool, Mac Mail to Outlook Converter, sets a new standard of the speed and quality of MBOX to PST conversion. It's easy to use, its wizard is easy to follow and conversion of huge email archives now takes considerably less time than it did before," says Atie Uhan, Head of Development at GlexSoft. "It's so simple an efficient that even kids can use it if they need to, and lots of our customers have already thanked us for solving their email migration problems."
The trial version of the program is free to download, but limits the number of messages to ten per mailbox. Purchasing a license removes all limitations and entitles users to free technical support and program updates.