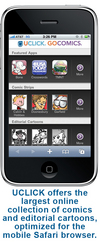 San Francisco, CA (PRWEB) January 6, 2009
UCLICK® revealed an all-new mobile Web application for the iPhone and iPod Touch at the MacWorld event in San Francisco. By navigating to http://www.uclick.com on these devices, the built-in Safari browser now displays the Uclick archive of 400,000 comic strips, single-panel comics and editorial cartoons.
The new mobile safari site builds on the company's experience from the Uclick GoComics.com desktop site, but the iPhone experience is completely reinvented for Apple handsets.
According to Uclick CEO Douglas Edwards, "We've taken our huge 'toon-bank of daily comics and editorials and made it easy to find and navigate on the iPhone. In addition to updating more than a hundred features every day, we've made it easy to step through previous days' cartoons and discover more classic creations as well as innovative new webcomic artists. We also deliver cartoonist's views of the news by featuring three-quarters of all the working editorial cartoonists in the U.S. today."
The iPhone-optimized site features 150 comic strips and single-panel cartoons, including Doonesbury, Garfield, Calvin & Hobbes, Close to Home, Cul De Sac and many more.
There are 61 editorial cartoons from the right, left and the middle of the political road. Featured editorial artists include Pat Oliphant, Ted Rall, and Glenn McCoy.
The new site provides a quick index to the comic books, manga and graphic novels Uclick has recently added to the iPhone App Store. Most of these new titles are available from the App Store for only 99-cents (U.S.) and include multiple installments of classics and collections of new artists' creations. The site makes it easy to find all the installments of Bone, Teenage Mutant Ninja Turtles, and many others as well as original webcomic creations now distributed by Uclick, including Basic Instructions, We The Robots and Pibgorn.
About Uclick
UCLICK® is a leading digital entertainment provider of innovative games for PC, mobile and online syndication. Uclick is a also a leading creator and distributor crosswords, word and number puzzles, comic strips, manga, graphic novels, editorial cartoons, and other content for desktop web and mobile phones. Partners featuring Uclick content include the leading consumer portals Yahoo!, MSNBC.com, New York Times, washingtonpost.com, CNN, USA Today, and AOL. Uclick features include the top brand franchises Garfield, Doonesbury, Calvin and Hobbes, Paul Frank, Teenage Mutant Ninja Turtles, TOKYOPOP, USA Today, Pat Sajak, Wyland, and many more. UCLICK, LLC is a division of Andrews McMeel Universal, the leading newspaper syndicate and publisher of humor books and calendars in North America.
###