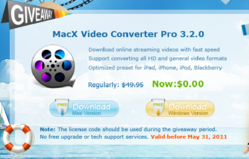 Get MacX Video Converter Pro for free before June 2, regularly $49.95. Available for both Mac and Windows users.
Chengdu, China (PRWEB) May 24, 2011
MacXDVD Software (http://www.macxdvd.com), a leading multimedia software provider, reaches out to both Mac and Windows users with a time-limited giveaway campaign in which everyone can get full licensed MacX Video Converter Pro 3.2.0 for free before June 2, 2011. The pro version is available for both Mac and Windows. Everyone is eligible to join it. The license code is included in the download file, valid to activate before the end of the giveaway.
After update, MacX Video Converter Pro has more stable performance on downloading YouTube videos, faster video encoding and decoding speed. It has plenty of features and supports converting almost any file format that is widely used. This video converter also has a lot of default settings, which is pre-configured and optimized for most portable devices, including iPhone, iPod, iPad, Blackberry, Android, PSP, etc.
In addition to this giveaway, buy one get one free offer is also launched, with MacX iPhone Mounter provided for free after purchasing MacX DVD Ripper Pro. For the upcoming DVD movies, like "Pirates of the Caribbean: On Stranger Tides", "Kung Fu Panda 2", "X-Men: First Class", "Transformers: Dark of the Moon", "Harry Potter and the Deathly Hallows: Part 2", MacX DVD Ripper Pro will be an ideal solution to backup them in diverse format that compatible with iPad, iPhone, iPod, Apple TV, etc.
While with the assistance of free gift, MacX iPhone Mounter, users are not only allowed to transfer files like images, music, movies, videos on iPhone, iPad, iPod to Mac for backup or sharing, but also able to mount these devices as hard drive to copy files from Mac.
"We'll constantly create a wide range of versatile solutions that will assist users to improve their digital life. This giveaway is to express our gratitude for the long term support from our customers," said CEO of MacXDVD, Jack Han. "We also recommend our customers follow our Twitter or join our Facebook to be kept informed of our latest software release, giveaway news, discount offer, etc."
About MacXDVD Software, Inc.
MacXDVD Software is a division of Digiarty Software Company, owns a professional multimedia software development team, providing a range of products for Macintosh Computer users, including MacX Video Converter, MacX DVD Ripper, DVD Author, DVD backup tools, etc, series of apps for Apple video player, and iPhone, iPad 2D and 3D video games. More information, please visit http://www.macxdvd.com. For editor or blogger who would like to request a free press kit with register key and full version of any MacXDVD products, please feel free to contact the public relationship representative Sarah at sarah(at)macxdvd(dot)com
###