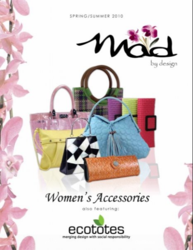 Provider of Wholesale Couture Handbags!
Melrose Park, IL (PRWEB) July 06, 2012
Anyone into fashion is always on the lookout for the latest trends. Founded in 2004, Mad Bags sells jewelry, purses, handbags, and scarves at wholesale prices, and its retail customer base now stands at an impressive 5,000 people worldwide. It first launched a 5-page catalog promoting 83 pieces in its collection. Now, its catalog covers 56 pages and offers over 800 exclusive pieces at affordable prices. LAD Solutions is promoting its brand.
What is innovative about Mad Bags is its original structure, as it grew from a business in the basement into a flourishing multi-million dollar company in the space of several years. Mad Bags' specialty is providing a diversity of wholesale price bags for fashion lovers worldwide, and its prices fit everyone's budget. Several of their fashion pieces are made from animal friendly leathers, bamboo, and hand-woven taffeta silks in an assortment of patterns and colors, which supports its eco-friendly brand and makes it an attractive option for animal lovers. One of Mad Bags' unique pieces is its Zebra Starlet Wristlet Clutch, and their use of natural mother of pearl in their bags sets them apart from similar fashion brands. Further, each piece of jewelry is manufactured to a high quality, and they take pride in maintaining this excellence.
As their name claims, fans are "mad" about this fashion wholesaler, and their business name is an acronym of founders' Douglas and Marta Stein's names. After hearing that she was expecting, Douglas wanted to find a way to raise his daughter while working from home, and this initiated the Mad Bags brand that first began providing these small bags to fashion boutiques around town from their basement.
Since their initial success, Mad Bags has continued to grow, and they now operate from a 12,000 sq. ft. warehouse with ten full-time staff members. They have also gained popularity after attending various trade shows, and its 2012 schedule covers Dallas, Atlanta, Philadelphia, Las Vegas, New York, Seattle and Chicago.
Assisting in the promotion of the Mad Bags brand is Los Angeles' online marketing experts, LAD Solutions. Current retailers who stock Mad Bags' products include Gaylord Plaza, The Smithsonian, The Four Seasons, and several other small boutiques. Not only does this brand offer wholesale fashion at affordable prices, but they also offer the Mad Rewards incentive with online orders. Every dollar spent equals one reward point, which can be exchanged for gift certificates with a cash value applied against purchases. For lovers of wholesale fashion pieces, Mad Bags is a haven for fashion conscious individuals living on a budget. Their eco-friendly brand also makes them an attractive option for vegetarians, vegans, and animal lovers.
About Mad By Design LLC: Founded in 2004, Mad Bags is the creation of Douglas and Marta Stein. He wanted to find a way to bring up his child and work from home. Mad By Design LLC is based in Melrose Park, IL and sells eco-friendly fashion pieces at affordable prices both online and through retailers and small boutiques.