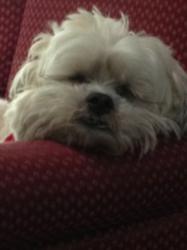 Max brings his humor, charm and good-natured (but slanted) doggy view to petCentricity.com
(PRWEB) June 28, 2012
Petcentricity Social Network Inc., the owners and operators of petcentricity.com would like to welcome "Max" the outspoken Bichon / Shih Tzu cross-breed who is the character behind the blog "Mad Max Rants" to the company. The "Mad Max Rants" blog is written from the point-of-view of Max; on a myriad of topics including what seems to make him mad, sad and what makes him happy.
Well known for his stubborn demeanor, sociable nature and quirky character, the blog shares the point of view of Max's experiences, from grooming to thunderstorms; humor, charm and good-natured (but slanted) doggy view to petCentricity.com "The ultimate social network for everything pet related".
As a dog of many colors "Max" will be our product tester, so petCentricity can offer dog product reviews. "Mad Max rants" (negative product review) "Mad Max raves" (positive product review).
There are plenty of great dog products coming soon to PetCentricity, some Max will rave about based on his own experiences and alternatively, there are poor, even dangerous dog products on the market today, which Max is bound to dislike, providing a 'rant' on the product.
"We welcome the perspective that Max will bring to petcentricity.com," said Scott Murray the president of Petcentricity Social Networks Inc. "There are so many pet topics of interest today, we welcome our readers to provide their suggestions and comments on all of Mad Max's blogs," Murray said.
In support of pets and veterinarians everywhere petCentricity will also be introducing http://www.vetstoyourpets.com, a blog site presenting stories about the life and death struggles, by pets, veterinarians and pet owners striving to save the ones they love.
"Sometimes we take our pets health for granted until we are faced with a life struggle, then, we appreciate the professionally trained veterinarians and veterinary and assistants who bring their talents to bear on healing our adoring pets," said Scott Murray.
"We welcome the stories and participation of veterinarians and pet owners everywhere. Vetstoyourpets.com is available for your stories and comments. Please join us."
Petcentricity offers free directory listings for pet businesses of all kind. Pet related businesses from all over the world are welcome to create their listings in the petCentricity directory free of charge. Visitors to petcentricity then have the opportunity to search the pet business directory and contact these businesses as desired.
About petCentricity.com (http://www.petcentricity.com, http://www.petcentricity.ca)
PetCentricity Social Network Inc. was founded in 2011 and is headquartered in Kelowna, British Columbia, Canada. PetCentricity is an online social network and virtual world for pets. The company provides a free venue for pets, pet lovers, and pet-related businesses and organizations to interact and communicate for their own mutual benefit. PetCentricity.com contains informative pet-related articles, columns and blogs, and incorporates a comprehensive directory, listing a vast number of pet-related products and service providers.