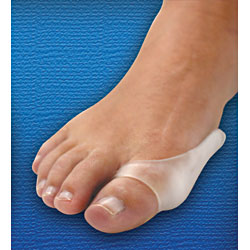 Silipos gel products use a superior, triblock polymer gel that is infused with moisture-rich medical grade mineral oil.
Pequannock, NJ (PRWEB) December 08, 2011
For anyone who has experienced the discomfort of bunions or corns on their feet, relief can probably not come soon enough. Maddak Inc., manufacturer of Ableware® aids for daily living, has recently added Silopos® Gel Products to their line. Designed to protect, hydrate and condition the feet, hands and skin while providing proper alignment where needed, Silopos® utilizes the best in gel and hydrating technologies to provide relief and aid healing.
According to Kathleen Hanek, Director of Product Management for Maddak, "Silopos products are made from very high quality, long lasting materials. Included in the line are products that help to alleviate pain and irritation caused by bunions, calluses, corns, overlapping toes, blisters, peeling cuticles, dry cracked skin and nails, plus so much more. Many of these are conditions that everyone will experience at one time or another."
Hanek went on to explain the benefits of the Silipos® line over other gel products. "Silipos gel products use a superior, triblock polymer gel that is infused with moisture-rich medical grade mineral oil. They aren't just surface coated. This makes them more effective and longer lasting than silicone based gels. Mineral oil is continually being released so the products hydrate, soften and condition your skin while protecting and cushioning against impact and pressure."
"In addition, many items in the Silipos® line have multiple uses" touted Hanek. "For example, the Digital Caps provide relief from pain in the fingers and toes caused by corns, blisters and ingrown nails, but they can also be used to soften and moisturize the cuticles. And, if you invert the cap so the gel is facing out, it is an effective tool for scar massage."
Silipos® Gel Products are manufactured in the United States by Silipos, the global leader in gel technologies. Maddak will be distributing the Silipos® line of triblock polymer gel products through its distributor base of HMEs and DMEs. "Forming a strategic relationship between Maddak and Silipos was a natural fit" Hanek remarked. "Both companies are proud U.S. manufacturers committed to providing exemplary products that improve quality of life. And, like Maddak Silipos has built its reputation by providing innovative, quality products and outstanding customer service."
The suggested retail prices for Silipos® Innovative Gel Products range from $6.99 to $24.99. For additional product information go to http://tinyurl.com/siliposgel. All products are packaged for retail display and a countertop spinner display with graphics is available. For a copy of our latest catalog or dealer information contact: Maddak Inc., 661 Route 23 South, Wayne, NJ 07470, 973-628-7600, Email: custservice(at)maddak(dot)com or visit http://www.maddak.com.
About Maddak
Maddak Inc. manufactures products that simplify the tasks of daily living – eating, drinking, dressing, grooming, bathing, toileting, etc. – for seniors, people with disabilities and people undergoing rehabilitation. The company mission is to provide quality products that enable people to maximize their independence and remain active despite any limitations they may face. Marketed under the Ableware® brand name, the Maddak product line includes over 500 products sold through medical and hospital supply centers, pharmacies, homecare centers and internet outlets. Established in 1971, Maddak Inc., headquartered in Wayne, NJ is the largest U.S. manufacturer of assistive devices, clinical modalities, home healthcare and rehabilitation products.
# # #