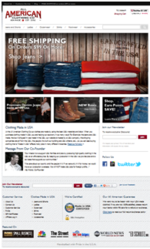 We are building a new website, a new headquarters and adding more products.
Arcanum, OH (PRWEB) June 07, 2012
The summer months are underway for the All American Clothing Co. This period is typically the slowest time of the year for Co-Owners Lawson Nickol, BJ Nickol, and their American Made clothing company. Due to the slow summer months, both can usually be found in slower and less hectic endevers than they would normally be involved with in the busy 4th quarter around the holiday season. However, it is not the case this year.
Half way through 2012 the Nickol family and their All American Clothing Co. are experiencing yet another milestone year since its start in 2002. This year, the USA Made jeans company is in the midst of launching a new website, building a new headquarters and looking forward to the additions of new USA made items that will both benefit today`s economy and create American jobs.
Do you think buying American is stupid? Click here.
The new website will feature a fresh look that allows users to find items with ease. Some new features include PayPal payments, product image zoom and product search. The items available on the new website will include a wide selection of USA Made clothing items such as blue jeans, cargo shorts, ladies capris, socks, graphic tee shirts and boots. The new website is all part of effort to involve and provide USA citizens with easier ways to become a part of the 'American Made' movement that brings back USA made manufacturing, enhances the economy and supports American citizens.
Make it a Father`s Day, Made in USA. Click here.
The All American Clothing Co. remains passionate about their country as they strive to make a difference in America by creating jobs in today`s economy. The USA Made apparel company is also passionate about improving lives as they honor and help those who deserve recognition. As a small sample of what they do, the All American Clothing Co will be launching a 'Made in USA Father`s Day' promotional event alongside the release of their new website. The event is meant to acknowledge our American fathers who do so much to provide for their families.
About All American Clothing Co:
All American Clothing Co. is a success story for small business in today`s economy. The entire group of employees understands the need and support of USA jobs, American made products, and a World Class service record. They strive to foster the loyalty among customers. To find out more about the passion and effort it takes to build a business in today`s economy, go to http://www.allamericanclothing.com and click on "Our Story".