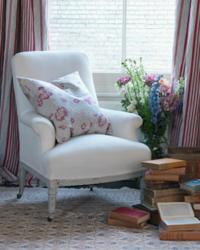 Spruce Up Your House This Christmas With New Curtains or a New Throw
(PRWEB UK) 26 November 2012
With Christmas just around the corner, the prospect of entertaining family and friends over the festive season has led many to seek significant improvements to spruce up their homes, with online retailer Curtains Made Simple cashing in on this consumer trend.
The modern era has of course seen a decline in the traditional nuclear family and increased geographical mobility, making one's nearest and dearest more widespread then ever. As a result, Christmas festivities are often the only time of year families will properly get together, and many British homes are now preparing for an influx of guests throughout the festive season. Curtains Made Simple believes this is the reason behind its significant growth in sales over the last month.
The online curtain retailer stated, "November is always a busy month for us, and this year has been no exception. With the prospect of entertaining extended family and friends for Christmas gatherings throughout December, and even having to dust down the spare bedroom for longer staying guests, people want to show off their homes in the best possible light and will often see this time as a good opportunity for a home makeover."
Yet equally, the uncertain financial climate makes this a difficult time for many families, who feel the pressures of spending money at Christmas more acutely than at other times of the years. As such, many who would like to make drastic changes to their homes find they cannot afford to, and are having to settle for smaller incremental improvements. Whilst these are often small, low-cost cosmetic changes – such as replacing a pair of curtains – they can give a room a completely different look, and give a substantial lift to the feel of the home.
Curtains Made Simple's competitive prices on a wide range of made-to-measure interior furnishings means giving a bedroom, living or dining room a "new look" this Christmas doesn't have to break the bank, a few cushions scattered here and there can make a difference. The waiting times of 3-4 weeks for made to measure curtains and blinds would explain the apparent "Christmas rush" that has occurred throughout November, with undoubtedly a few last-minute orders continuing to occur into early December.
About Curtains Made Simple:
Curtains Made Simple is a made to order soft furnishings company with easy to use online ordering for curtains, roman blinds, cut length fabric, cushions, pelmets, bedspreads / throws, duvets covers, bean bags, tablecloths, curtain valances and fabric samples.
Curtains Made Simple has over 7,000 fabrics to choose from including fabric from Cath Kidston, IKEA, Cabbages & Roses, Susie Watson, Kate Forman, Linens from Ada & Ina, Vanessa Arbuthnott, Clarke & Clarke and Prestigious Textiles.
Our aim is to provide the quality and personalised service of the high street with the prices of the internet.
To find out more please visit us at http://www.curtainsmadesimple.co.uk, email: info[at]curtainsmadesimple.co.uk or call us on: +44 (0) 845 8620743.