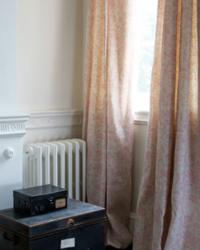 Older people appreciate the personal touch when shopping online.
(PRWEB UK) 17 December 2012
Recent consumer trends from Curtains Made Simple shows that the over-50s demographic is now the online retailer's biggest customer group, reflecting broader patterns of internet shopping habits.
The internet-based soft furnishings retailer specialises in offering made-to-measure curtains and roman blinds, and has recently extended its product selection to include bespoke cushions, bean bags, throws and duvet covers. Whilst such goods are fairly universal in terms of their appeal, recent data has shown that Curtains Made Simple's customer base now contains a large proportion of shoppers from an older generation, with over half of all website purchases being made by those aged 50 or over.
Such internet shopping habits appear to be reflected in the online community more broadly. Studies have shown that unsurprisingly, it is teenagers and young singles who use the internet most for entertainment and socialising, but older generations are becoming the prominent demographic for online shopping. The 2011 British Population Survey revealed that in the UK people over the age of 55 are more likely to shop online than those under 25, clearly defying the stereotype that older generations are distrustful of internet retailers and somewhat incapable of using online services.
It is of course easy to see why the internet is popular amongst this age category; mature shoppers can take the time to browse multiple options at their leisure any time of day and consider all the information carefully, without the struggle of having to get to the shops or get their goods home. Additionally small businesses such as Curtains Made Simple are able to offer high levels of customer service and a personalized approach when placing orders, making its online shopping experience even more tailored and supported for customers.
In order to maximise the potential from this developing trend of online shopping, Curtains Made Simple is now taking active steps to better reach out to the older generation. The internet retailer is currently undergoing changes to its website to make its interface even more user-friendly, as well continually striving to improve its high levels of customer service – often personally setting up a customer's account for them, keying in their order and emailing the link so they can view their quote online. Whilst young people may be used to an impersonal, mechanical service when ordering over the internet, older generations appreciate not having to go through a tiresome automated menu to speak to someone, and value the personalised help and advice they can get from small businesses such as Curtains Made Simple.
About Curtains Made Simple:
Curtains Made Simple is a made to order soft furnishings company with easy to use online ordering for curtains, roman blinds, cut length fabric, cushions, pelmets, bedspreads / throws, duvets covers, bean bags, tablecloths, curtain valances and fabric samples.
Curtains Made Simple has over 7,000 fabrics to choose from including fabric from Cath Kidston, IKEA, Cabbages & Roses, Susie Watson, Kate Forman, Linens from Ada & Ina, Vanessa Arbuthnott, Clarke & Clarke and Prestigious Textiles.
Our aim is to provide the quality and personalised service of the high street with the prices of the internet.
To find out more please visit us at http://www.curtainsmadesimple.co.uk, email: info[at]curtainsmadesimple.co.uk or call us on: +44 (0) 845 8620743.