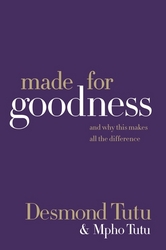 I have the highest regard for my good and trusted friend, Archbishop Desmond Tutu. I admire him for the wonderful, warm person he is and especially for the human principles he upholds. - His Holiness the Dalai Lama
San Francisco, CA (PRWEB) March 2, 2010
"I speak to audiences across the world and I often get the same questions. 'Why are you so joyful?' 'How do you keep your faith in people when you see so much injustice, oppression and cruelty?' 'What makes you so certain that the world is going to get better?'
What these questioners really want to know is what do I see that they're missing? How do I see the world and my role in it? What are the spiritual practices that uphold me? What do I see in the heart of humanity and in the sweep of history that confirms my conviction that goodness will triumph?
This book is my answer."
—Desmond M. Tutu
Archbishop Desmond Tutu has witnessed some of the world's darkest moments, for decades fighting the racist government policy of apartheid and being an ambassador of peace and reconciliation amidst political, diplomatic, and natural disasters. Yet people continue to find him one of the most joyful and hopeful people they have encountered. In MADE FOR GOODNESS: And Why This Makes all the Difference (March 2010; HarperOne), Tutu shares his source of strength and optimism.
Written with his daughter, Mpho A. Tutu, who is also an ordained Episcopal minister, Tutu argues that we are made for goodness, and when we simply start walking in the direction of this calling, we will be met, embraced, and encouraged. Seen in this light, tackling our worst problems takes on new meaning and is bolstered with hope. Father and daughter offer an inspiring message that will transform readers into activists for change and blessing.
ABOUT THE AUTHORS:
Anglican priest Desmond Mpilo Tutu won the Nobel Peace Prize in 1984. In 1986 he was elected Archbishop of Cape Town, the highest position in the Anglican Church in South Africa. In 1994, after the end of Apartheid and the election of Nelson Mandela, Tutu was appointed as Chairman of South Africa's Truth and Reconciliation Commission, to investigate apartheid-era crimes. His policy of forgiveness and reconciliation has become an international example of conflict resolution, and a trusted method of post-conflict reconstruction. He is currently the chairman of The Elders where he gives vocal defense of human rights and campaigns for the oppressed.
Mpho Tutu is executive director of the Tutu Institute for Prayer and Pilgrimage in Washington D.C, an Episcopal priest, and serves as chair of the board of the Global Aids Alliance.
Made for Goodness
And Why This Makes All the Difference
by Archbishop Desmond M. Tutu and Reverend Mpho A. Tutu
HarperOne; March 9, 2010
Hardcover; $25.99
ISBN# 978-006-1706592
Visit the authors at http://madeforgoodness.com
###