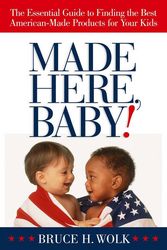 Keeping your kids happy and healthy is a major priority, so it's reassuring to know that it is possible to find safe, high quality American-made products that in many cases also offer a money-back guarantee
Denver, CO (PRWEB) March 25, 2009
Now parents, relatives and gift-givers can take back control instead of worrying about lead paint, choking hazards and other safety violations that have caused the recent recall of millions of imported children's products. Made Here, Baby!, http://www.madeherebaby.com is the essential guide to finding the best American-made products for kids from preemies to preteens as well as for new moms.
After an intensive research and interviewing process, author Bruce H. Wolk has compiled this comprehensive and timely guide to more than 400 small, medium and large American manufacturers of products including toys, games, puzzles, diaper bags, carriers, car seats, baby products, clothing, shoes, bedding, furniture and sporting goods. Complete with personal anecdotes and compelling facts about each company, this book will help parents, grandparents, and relatives find safe, high quality locally made products that are perfect for kids of every age. Made Here, Baby! is also a must-have gift for moms-to-be.
Throughout the book, Wolk highlights the unique profile of each of these American companies and also provides a useful index of women-owned businesses, companies committed to green or organic manufacturing and companies which have been in business for over a century. This easy-to-use guide features interesting facts about each company as well as details on how you can find and purchase their products. This collection cannot be found online as the list was compiled after thousands of hours of work. No company was favored over another or paid to be in Made Here, Baby!
"Keeping your kids happy and healthy is a major priority, so it's reassuring to know that it is possible to find safe, high quality American-made products that in many cases also offer a money-back guarantee," said Wolk. "Consumers will also be pleasantly surprised that many of the quality products made by these companies are very price competitive."
Made Here, Baby! retails for $17.95 and is available via http://www.madeherebaby.com and at most major online retail sites such as Amazon, Barnes & Noble, Target, and Borders, as well as numerous brick and mortar booksellers. The book makes a perfect gift for baby showers or as an important reference for anyone looking for safe, American-made products for newborns through to teenagers. A discount starting at 40% off is available for as few as five copies to higher discounts for larger quantity orders. To order five or more copies, please call toll-free 1-800-250-5308.
Made Here, Baby! Blog
Wolk also invites comments and opinions to his Made Here, Baby! Blog at http://www.madeherebaby.com Columns will focus on issues such as child safety, American manufacturing, American craftspeople, new manufacturing rules and regulations and discussion of recalls of imported children's products.
About the Author
Bruce H. Wolk has developed more than 50 products for the chil¬dren's, natural foods, and pet products industries. He is currently director of marketing for a national commodity board serving the needs of hundreds of American companies. He has written for numerous hobby, trade, and general interest publications. Wolk is a staunch advocate of American manufacturers of handcrafted wooden and fabric toys and women-owned American manufacturers. He lives in Denver, Colorado.
Made Here, Baby! is published by Amacom Books, New York City
http://www.amanet.org; http://www.madeherebaby.com
ISBN Number: 978-08144-1388-3; 308 pages
Advance Praise for Made Here, Baby!
"A wonderful, much welcomed and well-organized resource for parents, grandparents, or just about anyone shopping for the little ones in their life."
-Stephanie Oppenheim, Co-Founder of The Oppenheim Toy Portfolio
"Made Here, Baby! is a must-have guide for every parent's bookshelf. With this wonderful, eye-opening, inclusive book, every parent can source American-manufactured children's products - even products that are locally produced."
-Brette McWhorter Sember, author of Your Practical Pregnancy Planner, Your Plus-Size Pregnancy and The Everything Guide to Pregnancy over 35."
###