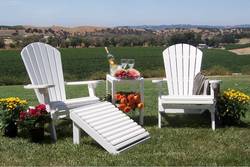 Atlanta, GA (PRWEB) February 13, 2009
Yard Envy (http://www.yardenvy.com) of Alpharetta, Georgia, a popular online provider of fine patio furniture and outdoor décor has increased the number of 'Made in the USA' products it offers to consumers on its website from several hundred a year ago to well over one thousand and growing as of February 2009. The increase in support for American-made products demonstrates the company's firm commitment to US manufacturers and their employees during a period of economic difficulty.
Products including Decorative Birdhouses, Adirondack Chairs, Vinyl Arbors, Whirligigs, and many others are available for purchase on YardEnvy.com and each proudly display the 'Made in the USA' label along with the American flag.
Examples of how customers can participate include:

Brides-to-be shopping on YardEnvy.com for the perfect Vinyl Arbor for their weddings this Spring will find a vast selection of elegant options that are not only beautiful and durable, but also made here in the USA. An American tradition like that of a bride and mother passing down the arbor she used in her wedding to her daughter or granddaughter can be further enhanced when that legacy involves support for American craftsmanship and American workers and their families.
Homeowners searching YardEnvy.com for outdoor patio furniture may select from a variety of options including Eco Friendly Adirondack Chairs which are manufactured in the United States and provide a fashionable alternative promising easy maintenance, durability and versatility. When purchasing American-made Eco Friendly Adirondack Chairs over traditional wood or metal outdoor patio furniture produced abroad, consumers can benefit from a product that is well-built, does not promote deforestation, and puts money back into the US economy.
Commenting on the topic, Chris Miller, co-founder of Yard Envy recently noted that, "In light of the economic challenges our nation faces, it's a good time for us all to come together to do what we can to support US manufacturing and job growth. As a Georgia-based fine patio and garden retailer, we are committed to continuing to add American-made products to our catalog. We believe that there is not just demand, but also patriotic good will at work on the part of American consumers seeking to purchase quality products they can trust which are manufactured right here in the United States."
About Yard Envy
Established in 2006, Yard Envy offers convenient online shopping for customers seeking fine outdoor patio furniture and garden décor items including over 1000 products Made in the USA, Award-Winning Bird Feeders, Garden Arbors, Hammocks, Bird Houses, Sundials, and more. YardEnvy.com is one of several successful websites owned and operated by parent company Trading Fort, LLC, a niche market online retailer headquarted in Alpharetta, GA.
For more information about Yard Envy, visit http://www.yardenvy.com or call 800-967-7654.
Contact:
Aaron Hassen, 800-967-7654, Ext. 5016
Email: media(at)yardenvy.com
###