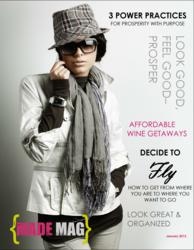 "Experience is not what happens to you; it's what you do with what happens to you." ~Aldous Huxley
(PRWEB) January 02, 2013
MadeMagazine, a magazine for success minded, ethics driven & fashionably chic women who are changing the world will be rolling out their January 2013 edition with a whole new format, which will include 22 new monthly contributors.
The magazine will still have all the fabulous monthly topics that you are used to, such as quizzes, travel tips, trend files, book reviews but will now contain more detail rich articles from our panel contributors who are experts in their fields of business, finance, psychology, relationships, travel, health & fitness... and much much more.
Do not miss out on this new edition.