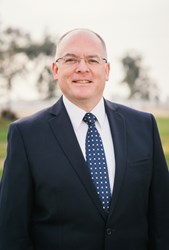 "My 30 year career in law enforcement has been characterized by lifelong growth in leadership positions, assignments, and responsibilities." - Chowchilla Police Chief Jay Varney
Madera, CA (PRWEB) December 09, 2013
Current Chowchilla Police Chief Jay Varney has announced his intention to run for the position of Madera County Sheriff.
Varney, 52, has spent the past ten years as the Chief of Police of Chowchilla, and was even the city administrator for a period of two years during his tenure.
He has been involved in various capacities of law enforcement over the past 30 years, serving in departments in both Dallas, Texas and Lansing, Michigan before accepting the position of Chief in Chowchilla.
The position sought by Jay Varney, Madera County Sheriff, is currently held by John Anderson, who has already announced his intentions to retire at the end of his term.
During his ten years as Chief, Varney has oversaw 17 police officers, and is responsible for an area that has two state prisons and a population of 18,500.
Varney is a graduate of Michigan State University, earning a Bachelor's degree, and has also earned a Master's degree in Criminology from Fresno State University. This is in addition to graduating from the FBI National Academy, a course offered only to select participants who are invited to the program by the program's leadership.
"My 30 year career in law enforcement has been characterized by lifelong growth in leadership positions, assignments, and responsibilities," said Varney of his unique and diverse experience. "I remain excited to be involved as a leader serving our Madera County citizens through the local, regional and state law enforcement community. I intend to apply that enthusiasm to the position of Madera County Sheriff."
For more information, quotes, appearances and interviews from Jay Varney and Varney For Sheriff/Coroner please contact Director of Media Brandon Hopkins at 559-871-1613, brandonchopkins(at)gmail9dot)com or http://www.SunsetReputation.com.
Authorized by Varney For Sheriff/Coroner 2014 FPPC#:1361251