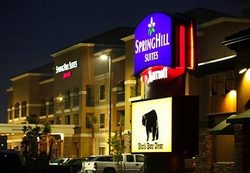 Madera, CA (PRWEB) February 25, 2010
After a year of focusing on customer service and community involvement, the Springhill Suites hotel in Madera, CA is proudly celebrating its first anniversary of providing new concepts in hotel accommodations to visitors of California's beautiful Central Valley and Yosemite National Park areas. Establishing a pacesetting suite experience for California visitors, the Springhill Suites Madera hotel near Badger Pass Ski Resort has excelled in guest satisfaction, with scores topping the norm in every category.
"I am proud to have been able to work with such a great team here at the hotel," said General Manager Joseph Dunzweiler of the hotel staff members and their performance over the past year. "The staff has worked through some very challenging events during the past year and has performed to the highest levels each time." The hotel's guest satisfaction scores for the year are well above normal in all areas - overall guest satisfaction, value received for price paid, staff service and overall hotel and suite appearance/quality.
The Springhill Suites hotel near Royal Madera Vineyards has brought an exhilarating style to all-suite hotels in the heart of the Central Valley area and is helping to renew and refresh the Madera community with a new level of service and distinctive décor in suites that offer separate areas for working, relaxing and sleeping. With a service oriented staff and classic Marriott amenities, the Springhill Suites hotel in Madera offers guests a refreshing change from the usual hotel experience. In addition to spacious accommodations, guests at the Springhill Suites enjoy a free continental breakfast, an on-site heated pool, fitness center and complimentary parking.
"The hotel has become a market leader - even during this tough economic downturn," Dunzweiler said. "The community has been hit hard in the past couple of years and it means a lot to us to be able to join and help such a beautiful area begin the rebuilding process."
"We take a lot of pride in surviving this first year with the success that we did, Dunzweiler continued. "We are also very proud to be a part of a community that is so strong. The city and county have been so great in accepting us and helping us have the success that we have. Overall I cannot say thank you enough to each and every person that has helped us reach this wonderful achievement. "
In the future, Dunzweiler said the hotel and its staff will focus on the community. "We are involved in bringing business to Madera, representing a new, refreshing and inspired stay in Madera. We are active in supporting both of the local high school athletic departments by sponsorship, volunteering our time to help in the community."
Offering an innovative and energetic atmosphere, the Springhill Suites Madera provides a convenient location to many of the Central Valley attractions and is just minutes from local shopping and dining. The extended stay hotel also provides a warm haven for those visiting California State University at Fresno, Fresno City College and Valley Children's Medical Center. In addition to a great location, each suite has a pantry area, small refrigerator, sink and microwave for the convenience of hotel guests and luxury bedding ensembles for a restful night's sleep.
###