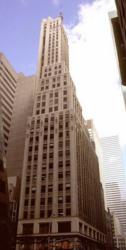 This transaction enables Madison Strategic Partners to move into high-end space that can accommodate our company's near and long-term growth
New York, NY (PRWEB) September 19, 2011
Madison Strategic Partners, a leading manager of life insurance assets, today announced its move from 41 Madison Avenue to 515 Madison Avenue. The new offices are located in the heart of midtown Manhattan on Madison and 53rd Street. The new offices comprise approximately 4,600 square feet, located on the art deco building's 13th floor. The three-year lease represents a significant expansion from the firm's previous location.
The broker was Elie Reiss of Rice and Associates. Newmark Knight Frank represents the 42-story building, which is pursuing a Silver LEED-EB (Existing Building) certification. The 13th floor is already LEED certified. The Gural family of Newmark Knight Frank owns the building.
"This transaction enables Madison Strategic Partners to move into high-end space that can accommodate our company's near and long-term growth," said Louis Kreisberg, Madison Strategic Partners CEO. "It was also important to us to be located close to many of our clients."
In addition to Madison Strategic Partners, other tenants in the building include Kreab & Gavin Anderson Worldwide, a global marketing company; Memorial Sloan-Kettering Cancer Center; the March of Dimes; Lepol Realty Corp., a development company; and Hamilton Investment Funds, an investment firm.
The building has undergone a full restoration of its lobby and renovation of office space. The lobby was extended by about 40 feet and Newmark Knight Frank restored the lobby's ornate decorative ceiling so that it looks as it did when the building was completed in 1932. The marble for the lobby was taken from the same quarry from which the original marble was taken.
About Madison Strategic Partners:
Based in New York, Madison Strategic Partners is a leading manager of life insurance assets with over $1.8 billion in face value of assets under management. Madison's principals are pioneers in the life insurance financing and investment sectors having structured, originated and managed over $17 billion in life asset transactions since 2001, working in conjunction with major global banks and institutional investors. The firm's integrated platform offers asset sourcing, asset management and servicing capabilities.
###