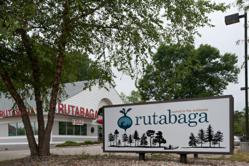 "We knew that the best place to debut a new product specifically designed for paddlers was Canoecopia," said Craig Reingold, President of Sperry Top-Sider.
Madison, WI (PRWEB) January 23, 2013
Rutabaga Paddlesports announced today that Sperry Topsider, Ontario Tourism, Level Six and NRS will again be top sponsors of Canoecopia, the world's largest consumer canoe and kayak exhibition. Rutabaga also welcomes Sierra Magazine as the media sponsor and Subaru as the automotive sponsor. The annual 3-day event plays host on average to more than 20,000 consumers and about 175 outdoor exhibitors.
"The quality of our sponsors amazes me," said Darren Bush, owner and Chief Paddling Evangelist of Rutabaga Paddlesports. "I hate to use the word synergy, but there is a great energy that comes from these companies, and we love providing these companies top billing."
The enthusiasm extends to the vendors and manufacturers as well, who participate in the show.
"When I think of Canoecopia, the word inspiration immediately comes to mind," said Tyler Lawler, co-owner of Level Six, a paddle clothing manufacturer. "Just hearing about the adventures of other paddlers, talking about the next trip, the route, the gear, the weather, all inspire me to go paddling."
Lawler knows that people at Canoecopia also are inspired.
"How can you not be inspired? At Canoecopia you are surrounded by passionate people. By sponsoring the show and taking that little extra step to be part of that inspiration means a lot to us," Lawler says.
It's also true for individuals at the paddle clothing manufacturer NRS.
"Canoecopia has helped us build our brand not just in Madison or Wisconsin but throughout the Midwest and beyond," said Midwest Sales Representative David Feucht. "We see customers from all over the country at Canoecopia."
Canoecopia's sponsors from across the border see the value of being at the exposition as well.
"2012 was our first year in the Wisconsin marketplace," said Steve Bruno, Partnership Coordinator of the Ontario Tourism Marketing Partnership Corporation. "We created stronger awareness for our wilderness, lodge based, and guide lead paddle destinations. Through our participation in North America's largest paddlesports show we generated numerous leads. We are looking forward to building on last year's success in 2013."
Sperry Top-Sider entered the paddling market in 2011 with the launch of their SON-R Technology in 2011. Most consumers know Sperry top-Sider for boat shoes, which the company invented in 1935.
"We knew that the best place to debut a new product specifically designed for paddlers was Canoecopia," said Craig Reingold, President of Sperry Top-Sider. "Our product developers have created exciting new technology that enables paddlers to improve their performance and we have had a great response at Canoecopia."
The staff who hosts Canoecopia each year is delighted to work with Sierra Magazine, the official publication of Canoecopia.
"Sierra magazine is proud to be the exclusive magazine sponsor of Canoecopia for the 8th consecutive year," said Kristi Rummel, National Advertising Director for Sierra Magazine. "After 8 years of participating in Canoecopia, I understand what a special event it is for the outdoor industry and its consumers. The event offers the opportunity to interact with industry leaders, learn from the many great speakers, plan adventures, see the latest gear, and buy it at a good price. What a great way to start the spring."
Rutabaga also welcomes Subaru as their automotive sponsor.
"It's a win-win situation," said Subaru spokesman John Duell. "We show our cars as they're meant to be seen; with canoes and kayaks on top of them. The Subaru customer is an active outdoorsperson."
Bush agrees, "We need a way to display different ways to carry kayaks and canoes, and Subaru' fits the bill to perfection."
Canoecopia runs March 8th through March 10th at the Alliant Energy Center Exhibition Hall in Madison, Wisconsin. Information about Canoecopia's exhibitors, presentations, and clinics can be found at http://www.canoecopia.com
About Rutabaga Paddlesports:
Rutabaga Paddlesports has received Paddlesports Retailer of the Year from Canoe and Kayak Magazine a record eight times and was voted one of the best 50 Places to Work by Outside Magazine in 2011. Rutabaga Paddlesports is a nationally-recognized kayak, canoe, and stand up paddle (SUP) retailer. The company's paddling school, Rutabaga Outdoor Programs, teaches paddling skills to more than 1,000 paddlers a year. Rutabaga is currently developing cartop.com.
###