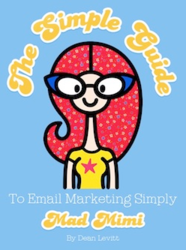 In writing this e-book, I had one aim : To get you emailing effective HTML emails that will respect your readers and achieve your goal whether it's marketing, connecting or marketing while connecting. - Dean Levitt, author
New York, New York (PRWEB) May 23, 2013
The Simple Guide to Email Marketing is a new e-book resource from Mad Mimi for first-time email marketers addressing fundamentals, while experienced email marketers will find inspiration and ideas to boost engagement as well. Its layout addresses topics from both 'technical' and 'philosophical' aspects and is rich with examples. Written in language that will make sense to all email marketers, Levitt said he had one goal while writing it: "To get you emailing effective HTML emails that will respect your readers and achieve your goal whether it's marketing, connecting or marketing while connecting."
Topics covered in the e-book include :

Why email marketing matters - "More than one in five people worldwide use email."
List of free tools to make life easier when it comes to composing, photo editing, and color pickers.
Tips for writing effective content readers will love - "Good writing matters."
How to engage readers and stay relevant - "What, as it pertains to your business, will give your readers something interesting to read?"
How to create a readable layout in no time - "Keep it simple."
Standard design rules that look good in inboxes across all platforms - "Aim to keep everything uniform and easy to read with visible links."
Tips for creating the perfect banner for a newsletter - "Start with your logo or a picture of your brick and mortar storefront."
How to think like a designer to brand emails - "Banners are the first step to branding your email."
Techniques to optimize images for the inbox - "The smaller the file size, the quicker the image downloads."
How to write subject lines that will increase view rates - "Be honest; Be descriptive; Funny helps."
Email analytics and understanding what they mean - "Statistics are a way to affirm that the connection is being made [with your audience.]"
Healthy list management techniques - "With lists, bigger is not better."
How to enjoy email marketing - "Simple means you'll enjoy your emailing, do it more often, and both you and your readers will benefit."
The e-book is a free download from the Mad Mimi site and is available for Nook and Kindle for $0.99. This is the first in a series of e-books that Mad Mimi will be publishing for their customers and any other prospective email marketers.
Every day, over 40 million attractive emails are sent, shared and tracked using Mad Mimi. Check out Mad Mimi's gallery or Pinterest and see what other small businesses are doing with their email newsletters. In the meantime, keep in touch by following @MadMimi on Twitter, checking in on Facebook and keeping up with Mad Mimi news at http://blog.madmimi.com.
About Mad Mimi
Mad Mimi is an email marketing and newsletter service founded in 2008 by Gary Levitt, with the goal of providing a simple and elegant way to create, send, and track beautiful html email newsletters and promotions. With a unique, template-free approach to email creation and fanatical customer support, Mad Mimi is trusted by more than 100,000 businesses including, Air Canada, TimBuk2, and StumbleUpon. Mad Mimi is a privately held company and is headquartered in New York, NY.