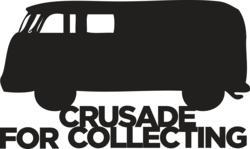 The goal of the Crusade is to begin a dialog about art – about connecting to original art and supporting artists who are passionate about what they do.
New York, NY (PRWEB) January 16, 2013
Jennifer Schwartz, owner of the Jennifer Schwartz Gallery in Atlanta, Georgia, embarks this spring on a ten-city tour of the US in a 1977 Volkswagen bus, with a unique mission to create art collectors. The "Crusade for Collecting" is her way of engaging would-be collectors in an innovative way, essentially taking a gallery to the public, or in her words, "bringing art to the people and people to art." Rather than sell photographs at each stop, the public is encouraged to engage the artists in conversation. Jennifer's hope is that their connection with the art and its artist creates a value for collecting and support for the arts. Attendees will receive the artwork free of charge.
Jennifer explains, "The goal of the Crusade is to begin a dialog about art – about connecting to original art and supporting artists who are passionate about what they do. Photographs will not be for sale. Instead, people will be encouraged to choose a favorite photograph and engage with the artists. Most people will be able to keep their favorite photograph and walk away collectors. Local photographers will have the opportunity to connect with future collectors in their own communities, and people will take a moment to think about the value and accessibility of art."
The bus, affectionately named Lady Blue, has already made appearances at the High Museum of Art in Atlanta and PhotoNOLA in New Orleans as preparatory stops to the full tour. Jennifer raised the funds for the vehicle via Kickstarter is covering the travel and photographic production costs of the tour through sponsorships and private donations.
Jennifer uses Mad Mimi email newsletters to communicate with her gallery clients and community, sharing her passion for photography, sparking would-be collectors, and connecting artists and the public. Mad Mimi supports the arts and has thousands of photographers and artists as customers.
Mad Mimi is sponsoring and supporting Jennifer's endeavor and will use social media to keep users informed about The Crusade's progress as she makes stops across the country. Dean Levitt, who responded to Jennifer's inquiry, said it this way, "Mad Mimi has always been a proud supporter of the arts and photographers in particular, so when I first heard of Jennifer's idea I was excited. The Crusade for Collecting is a creative idea and will be fun and engaging for each of the communities Jennifer visits. I also love how the Crusade supports working photographers and artists by helping generate awareness for their work. Since we love our customers, the sponsorship was an easy fit."
Every day, over 40 million attractive emails are sent, shared and tracked using Mad Mimi by customers like the Jennifer Schwartz Gallery (http://mad.ly/3d8b53.) Jennifer uses Mad Mimi's free multi-user feature to keep her multiple subscription lists and business content separate. Check out Mad Mimi's gallery and see what other small businesses are doing with their email newsletters. In the meantime, keep in touch by following @MadMimi on Twitter, checking in on Facebook and keeping up with Mad Mimi news at http://blog.madmimi.com. For design ideas peruse Mad Mimi's Pinterest page.
About Mad Mimi
Mad Mimi is an email marketing and newsletter service founded in 2008 by Gary Levitt, with the goal of providing a simple and elegant way to create, send, and track beautiful html email newsletters and promotions. With a unique, template-free approach to email creation and fanatical customer support, Mad Mimi is trusted by more than 100,000 businesses including, Air Canada, TimBuk2, and StumbleUpon. Mad Mimi is a privately held company and is headquartered in New York, NY.