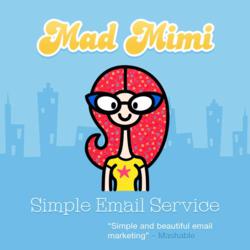 "E-mail marketing is central in today's web-based and connected world - and Mad Mimi has done an excellent job with combining our solutions." Ian Wenig, Senior Director Business Development, Zoho
New York, NY (PRWEB) June 05, 2013
Email marketing service Mad Mimi now integrates with Zoho. Zoho is a comprehensive suite of apps for business. Mad Mimi's integration focuses on the social CRM (customer relationship manager) app. The integration allows Zoho users to easily add their contact lists and associated contact details to Mad Mimi's email service. Sending beautiful html emails to a responsive audience is that much easier.
Ian Wenig, Senior Director Business Development for Zoho, explains the integration this way, "Zoho is all about providing customers with maximum breadth and depth of functionality within our applications while enabling partners like Mad Mimi to extend this. E-mail marketing is central in today's web-based and connected world - and Mad Mimi has done an excellent job with combining our solutions."
Mad Mimi imports all available data fields from the Zoho CRM including modified, created, and last activity information. All fields are fully searchable. The Zoho CRM acts as the master system of record for those who integrate, so a 'Refresh' button is available to continually update from the master list. The integration also respects the opt-out checkbox associated with a contact in Zoho. Mad Mimi won't import any contacts who are marked as 'opt-out' in the CRM.
An account with both apps is necessary for integration. Mad Mimi is pleased to offer small businesses another opportunity for growing healthy lists and to develop customer relationships.
Every day, over 40 million attractive emails are sent, shared and tracked using Mad Mimi. Check out Mad Mimi's gallery or Pinterest and see what other small businesses are doing with their email newsletters. In the meantime, keep in touch by following @MadMimi on Twitter, checking in on Facebook and keeping up with Mad Mimi news at http://blog.madmimi.com.
About Mad Mimi
Mad Mimi is an email marketing and newsletter service founded in 2008 by Gary Levitt, with the goal of providing a simple and elegant way to create, send, and track beautiful html email newsletters and promotions. With a unique, template-free approach to email creation and fanatical customer support, Mad Mimi is trusted by more than 100,000 businesses including, Air Canada, TimBuk2, and StumbleUpon. Mad Mimi is a privately held company and is headquartered in New York, NY.