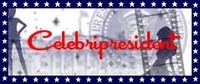 Election season is intense and Celebripresident is a refreshing dose of humor for everyone burned out on monotonous stump speeches and overload of talking points
NEW YORK (PRWEB) September 25, 2008
"Celebrifantasy gives fans the best celebrity-driven games and entertainment on the internet," said Founder Marc Mitchell. "Creating Celebripresident gives our users another unique way to escape the 24-hour news cycle and have a little fun with their own private election."
Starting on October 1, 2008, users can vote on the 64 celebrities (including Beyonce's Bootylicious party, Zac Efron's Cougar platform and Jennifer Lopez's Get Right agenda) and their unique qualifications to be our next fictitious President. The tournament will narrow the choices down over four weeks to one winner, the Celebripresident. Users can vote several times a day on Celebripresident.com or through widgets embedded on other sites.
Celebripresident is the latest addiction from Celebrifantasy.com, the web's one-stop shop for celebrity gossip, chat and fantasy leagues.
Political and Entertainment Commentator Maegan Carberry will serve as Election Commissioner, offering insight from her experience running the West Coast offices of the Huffington Post while serving as Arianna Huffington's Chief of Staff.
"Election season is intense and Celebripresident is a refreshing dose of humor for everyone burned out on monotonous stump speeches and overload of talking points," said Carberry.
The Celebripresident winner will be announced on October 29th at an inauguration bash in New York City.
Launched on April 1, 2008, Celebrifantasy, http://www.celebrifantasy.com, is a community-based lifestyle website that aggregates the latest celebrity news from top gossip news sites and blogs and offers the ability to create and coach fantasy celebrity teams.