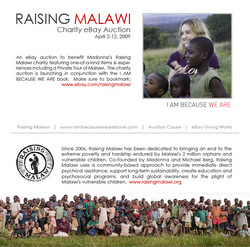 We believe a cultural icon such as Madonna serves as an amazing role model for those looking to give back to worthy causes. This auction includes highly personal connections to her life, musical career, and the children of Malawi
Los Angeles, CA (Vocus) April 11, 2009
Madonna's philanthropic side is front and center with unprecedented items and experiences listed via a partnership with Auction Cause utilizing the eBay platform. Proceeds from the auction initiative benefit The Raising Malawi Academy for Girls.
The Academy for Girls will provide the means for impoverished girls to realize the full range of their intellectual, spiritual, creative, and human potential; to act as examples of girls' empowerment and gender equity; to foster Malawian cultural pride and responsibility; and to provide innovative opportunities for sustainability. Raising Malawi is doing more than just funding a girls' academy. They support hundreds of thousands of orphan children through community based organizations operating in Malawi.
The auction coincides with the release of photojournalist Kristen Ashburn's ''I Am Because We Are,'' the print companion to Madonna's extraordinary documentary of the same name. http://www.iambecausewearebook.com
Madonna has signed copies of Ashburn's ''I Am Because We Are'' and are up for bidding as stand alone collectibles as well as part of packages.
"We believe a cultural icon such as Madonna serves as an amazing role model for those looking to give back to worthy causes. This auction includes highly personal connections to her life, musical career, and the children of Malawi," commented Eric Gazin, President of Auction Cause.
Items for auction include:

A private tour of Malawi, including r/t air and hotel, led by Madonna's philanthropic director Philippe van den Bossche
A private training session in New York with Tracy Anderson, Madonna's personal trainer
2 VIP Madonna Sticky & Sweet tour tickets for her show in Belgium on 7/11/09
A private screening of Madonna's documentary "I AM BECAUSE WE ARE'' with the film's director Nathan Rissman
A private spa session by Madonna's skin Specialist, Michelle Peck, in Los Angeles
John Hardy 18K gold earrings with pink tourmaline and sapphire
Bidding ends April 12th. Please view the auction at: http://www.ebay.com/raisingmalawi.
About Auction Cause
Auction Cause is the leader in cause marketing campaigns, branding, and fundraising utilizing the eBay platform, generating more than 1 billion media impressions and counting. By integrating clients' campaigns with social media outreach using Twitter, Facebook, blogs, viral videos, and more, Auction Cause is able to tap an even wider audience.
The results are brand loyalty, nonprofit enthusiasm, and celebrity buzz - all while raising serious money for causes.
For more Contact: information, please visit http://www.auctioncause.com or follow them on Twitter at http://twitter.com/auctioncause.
Lisa Angelo
Director of Communications, Auction Cause
Lisa (at) auctioncause (dot) com
Phone 323-655-0554
Fax 323-375-1507
# # #